South Africa Wildlife
South Africa Birdlife Gallery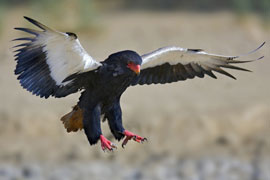 South Africa ranks as one of the top birding destinations in the world. An incomparable combination of variety of birds, first class South African hotels and accommodation facilities, an excellent network of internal airline routes and a multitude of South African car hire companies (including the large internationals) and a supportive avi-tourism industry makes South Africa one of the most desirable birding destinations in the world.

Birders from around the world come to experience both the great variety of typically African birds, migrants, and Endemic Birds. These birders enjoy excellent birding, whether they are with an organised commercial birding tour or are touring independently. Of the +/- 850 bird species recorded in South Africa, about 725 are resident or annual visitors, and 50 of these are endemic or near-endemic and can only be seen in South Africa. Apart from resident birds, South Africa hosts a number of intra-African migrants such as cuckoos and kingfishers, as well as birds from the Arctic, Europe, Central Asia, China and Antarctica during the year.
South Africa Birdlife
South Africa's Prime Birding Areas
Many of the hundreds of nature reserves and game reserves throughout South Africa provide excellent opportunities for bird watching. Facilities include trails, hides, information sheets and checklists, and trained bird guides. In some areas specific birding facilities have been established. The endemics and endangered bird species are one of the major attractions for birders visiting South Africa. Many of these endemic species are found in the grasslands, mountains, arid interior and southwestern regions. The following areas offer exceptional birding experiences but great birding can be had in many other parts of the country.


KwaZulu Natal
The north-eastern part of
KwaZulu Natal
is one of the most species-rich areas of South Africa with a tropical feel and spectacular birds. Lush forests, marshes, freshwater lagoons, flooded grasslands, tidal estuaries and acacia woodland support an excellent array of birds. Specials of the area include Woodward's Barbet, Palmnut Vulture, African Broadbill, Neergaard's Sunbird, Rudd's Apalis, Delegorgue's Pigeon,
Knysna Turaco
, Livingstone's Turacos and Southern Banded Snake Eagle.
Birding facilities are exceptionally well developed in this region. The Zululand Birding Route is centred on Eshowe. Dlinza Forest in Eshowe has a forest boardwalk that takes you into the canopy from there you can observe species such as Delegorgue's Pigeon, Grey Cuckooshrike, Crowned Eagle and Spotted Ground Thrush.
Western Cape
The
Western Cape
is a much visited region with excellent birding and superlative scenery, the best whale-watching in the world and the possibility of seeing Great White Sharks. Apart from the pelagic trips which are good all year but best in winter, the Western Cape hosts a large number of endemics and the best wader watching in the country. The endemics include fynbos specials such as Orange-breasted Sunbird,
Cape Sugarbird
, Cape Siskin, Protea Seedeater and Hottentot Buttonquail. Cape Rockjumper is found on the craggy mountainsides. Knysna and Victoria's Warblers can be seen in the damper valleys and a variety of larks in the dry interior.
The
West Coast National Park
(which includes the
Langebaan
Lagoon) attracts massive numbers of waders from their Arctic breeding grounds during the southern summer and is particularly important for the Curlew Sandpiper. The Langebaan Lagoon is surrounded by the strandveld where Black Harrier, Southern Black Korhaan and a variety of smaller birds such as Grey Tit, Cape Penduline Tit and Layard's Titbabbler can be seen. Closer to Cape Town the Cape of Good Hope National Park offers excellent birding for species such as Hottentot Buttonquail and a variety of seabirds. The nearby Boulders Beach National Park at
Simonstown
has a flourishing
African Penguin colony
.
Mpumalanga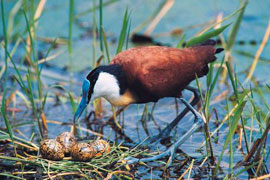 The
Lowveld
is the low-lying tropical region in the north-eastern part of
Mpumalanga
largely taken up by the famous
Kruger National Park
and is bordered in the west by Drakensberg escarpment. These low-lying bush areas are home to large populations of
South Africa's Wildlife
and birds typical of such
South African Reserves
.
Raptors occur here in good numbers including
Martial Eagle
, Tawny Eagle, Brown Snake Eagle, African Hawk Eagle, Walhberg's Eagle, Steppe Eagle and Lesser Spotted Eagle. Other large and noticeable birds include Saddlebilled Stork, Southern Ground Hornbill,
Ostrich
and Kori Bustard. Along the western edge of the Lowveld the escarpment supports many forest and cliff dwellers including Taita Falcon, Bat Hawk and Cape Parrot.
The
Central Grasslands
are a key area for birders holding a number of special grass- and wet- land species. One of the most visited towns is
Wakkerstroom
which is close to where Mpumalanga, the
Free State
and KwaZulu Natal Provinces meet.
Wakkerstroom
is visited by most of the birding tours that come to South Africa and as a result has excellenent birding facilities including resident tour guides.
Gauteng
Even though
Gauteng
is the most heavily developed area in South Africa, Gauteng offers excellent birding. Around 350 different bird species can be seen within easy reach of Johannesburg and Pretoria, and a wide range of habitats are easily accessible. Of primary interest are Marievale,
Suikerbosrand
, the
Magaliesberg
Mountains,
Walter Sisulu National Botanical Gardens
and the Dinokeng Bushveld area. Even within cities a great variety of birds may be found, and garden lists often exceed 100 species. Common species include
Hadeda Ibis
, Speckled Pigeon, Grey Loerie,
Bokmakerie
, Green Woodhoopoe, Black-collared Barbet, Olive Thrush and Cape Robin.
South Africa Birdlife
Regional Bird Sanctuaries
Western Cape: Western Cape Bird Sanctuaries
Eastern Cape: Eastern Cape Bird Sanctuaries
Free State: Free State Bird Sanctuaries
Garden Route: Garden Route Bird Sanctuaries
KwaZulu Natal: KwaZulu Natal Bird Sanctuaries
Gauteng: Gauteng Bird Sanctuaries
Mpumalanga: Mpumalanga Bird Sanctuaries
North West: North West Province Bird Sanctuaries
Limpopo: Limpopo Bird Sanctuaries
South Africa Birdlife
Important Birding Links
Birdlife International: www.birdlife.org
WWF South Africa: WWF South Africa
Birdwatching in South Africa: Bird watching
South Africa Birdlife
Birding News
Top 5 Spots for Bird Watching in South Africa
Oxpecker Research Faciliy unveiled at Mokopane - National Zoological Gardens of South Africa.
Stately "Lehututu" may not be around much longer - By Fred Katerere, BUA News.
Seabird viewing off Cape Point and Simon's Town - By Patrick Cardwell.
The Boulders Beach Penguins
- By SA-Venues.com Travel Writer.