South Africa Wildlife
Martial Eagle {Polemaetus Bellicosus}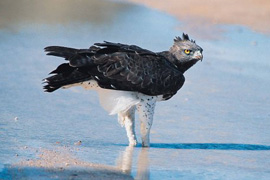 The largest eagle in Africa, this bird spends much of its time on the wing, and is usually seen soaring about hill slopes, often at a very great height rendering it almost invisible to the naked eye.

Nests are built invariably in trees, at any height from 20 to 80 feet above ground, but often in the largest tree in the area, growing on a steep hillside or in a gorge, where the bird has a clear sweep off the nest.

Pairs have one or two nests, which are used in alternate years if more than one, but for successive breeding attempts if only one. They may be used by a succession of birds for many years.


Quick Facts
Name:
Polemaetus bellicosus
Size:
19-24cm, 100-120g
Habitat:
Uninhabited stretches of thornbush and savannah, open plains and semi-desert country.
Distribution:
Africa south of the Sahara, from Senegal to Somalia and south to the
Western Cape
.
Diet:
In some areas birds form an important part of the diet, including guineafowl, francolins, bustards, and poultry. In other areas the diet is largely mammalian, especially hyrax and small antelopes. Animals as large as an
Impala
calf are taken, and some monkeys, also occasionally young domestic goats, and lambs. Carnivores like mongoose are sometimes taken, even occasionally
Serval Cat
and
Jackal
, a few snakes and large lizards. The Martial Eagle will evidently eat whatever is available, with a preference for game-birds, hyrax, and poultry.
Reproduction:
The breeding season begins in various parts of the range in a wet season, the early dry season, or late in the dry season, and some part of the cycle must extend through rainy periods. Incubation is normally by the female, but a male has been known to sit. The female leaves the nest to feed and is not usually fed by the male at the nest. The incubation period is about 45 days.
The young is very weak and feeble when first hatched, but becomes more active after about twenty days. At 32 days feathers show through the down, and completely cover the bird at 70 days. The young is fed by its parent until it is about 60 days old, and well feathered, when it starts to tear up its prey itself. The young bird, after making its first flight (at about 100 days), may return to roost in the nest for some days, and thereafter moves away from it. It remains loosely attached to the nest site for some time, and may be seen not far from it for up to six months.

South Africa Car Hire
Hire from international and local companies, offering a wide range of cars, from budget to luxury groups.