South Africa Wildlife
Knysna Lourie {Tauraco corythaix}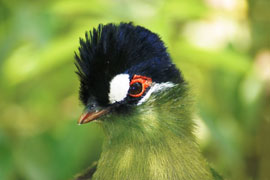 A large green bird with a short hooked bill and brilliant red wings. The bill is short, deep and sharply curved and is orange-red. The eye is brown and the eye-ring deep red. There is a white line just under the eye, which extends behind the eye. It has a long and heavy tail, as is mostly green - the wing coverts darker metallic green.

The Knysna Loerie has a tall, elegant, rounded crested, which is tipped white. The primary wing flight feathers are bright red - which can be seen when the bird is in flight. Also known as the Knysna Turaco, it is a bird found in forests, and only in South Africa. Usually seen flying between forest trees, when it's brilliant red outer wing feathers can be seen. It hops with agility in trees and along branches.


Quick Facts
Name:
Tauraco corythaix
Habitat:
Forests
Distribution:
Found only in South Africa and particularly in the
Knysna area
of the
Garden Route
.
Diet Description:
Fruit, insects and earthworms
Socialisation:
Knysna louries clamber around in trees, hopping from branch to branch in search of fruit and seeds, which they swallow whole. They exist usually in pairs or small family groups, and noisily defend their territory with a hoarse
'kow-kow'
noise.
Reproduction:
Nests at different times of year, depending on region. The nest is a shallow platform of sticks placed in leafy tree or dense creepers. Although two eggs are laid, usually only one nestling will hatch.