South Africa Wildlife
African Penguin {Spheniscus demersus}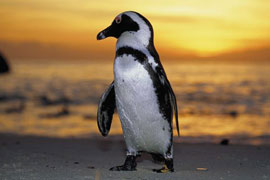 The African (Jackass) Penguin is a black and white patterned penguin. It is a distinctive bird with largely black upperparts and white underparts. The face is black, separated from the black top to the head by a broad white "C" shaped marking.

There is a black band running across the breast, extending down the flanks. They have an eye ring and eyebrow of bare pink skin. The bill is blackish, with a pinkish-grey band near the tip. The legs and feet are black.


Quick Facts
Name:
Spheniscus demersus
Habitat:
Found on the southern and West Coasts of
South Africa
.
Distribution:
Jackass Penguins are endemic to southern Africa
Size:
50 cm
Diet:
Penguin feed on pelagic shoaling fish such as pilchards and travel out to sea in search of food. The flipper-like modified wings allow Jackass Penguins to "fly" rapidly through the water.
Reproduction:
The Jackass Penguin breeds mainly on islands off the west coast of South Africa and Namibia but a thriving colony can be seen at Boulders Beach near Simonstown.
Did you know?
Persecution, oil-spills and disturbance has led to a drastic decline in numbers over the last half century to the point where the African Penguin is now listed as a vulnerable species.
Want to swim with Penguins?
If you are visiting Cape Town and would like to spend some time on the beach with the penguins, visit Boulders Beach in Simons Town. They literally waddle past your beach towel on their way to having a dip! For additional information read our article on the Boulders Beach Penguins.
Watch Penguins Play
An abandoned Betty's Bay Whaling Station site where 300 whales were once killed annually for their oil (from 1917 - 1930) now gives birth to new life as penguins naturally selected breeding ground. The circle of life is best observed just after sunrise or just before sunset when the birds return from their 20km fishing expedition. See full details at Watch Penguins Play in Bettys Bay