South Africa Wildlife
Cape Sugarbird {Promerops cafer}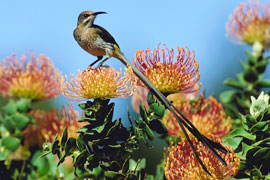 The Cape Sugarbird is a species restricted to the Cape Fynbos, showing a distinct preference for Fynbos, which has many protea plants. The Cape Sugarbird is brown above and paler below.

The Cape Sugarbird has a white chin and distinctive brown stripe, with a white line above it. The underparts are paler - the female with a white chest centre and belly, and streaking on the flanks and lower belly.

In both sexes the undertail is bright yellow, and the top of the head is dull brown. The Male has a very long tail (twice the length of the body) and the female a tail of about half that length.


Quick Facts
Name:
Promerops cafer
Distribution:
The Cape Sugarbird is common in the
Western Cape Province
, including in
botanical gardens
and mountain slopes. The Cape Sugarbird is one of a family (of only two species, Gurney's Sugarbird being the other) This Sugarbird family is restricted to Southern Africa.
Habitat:
Usually in pairs or groups, the male often sitting prominently at the top of a large protea bush.
Diet Description:
Insects, spiders and nectar of protea species.
Reproduction:
In
South Africa
the Cape Sugarbird breeds from February to August, but mainly from April to May in the south-western Cape Province. The nest is an untidy cup of twigs, grass roots and pine needles, lined with protea down. It is placed in the fork or tangled branch of a protea bush or other large leaved trees.