South Africa Wildlife
Cape Gannet {Morus capensis}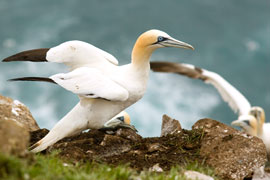 Cape Gannets are easily identified by their large size and black and white plumage which is noticeably silky, giving them a graceful appearance.

When seen in flight the snow-white body with the black tail, primaries and secondaries, and dark bill echo this grace.

At closer range the distinctive golden crown and nape which gradually become white on the neck are noticeable.



Quick Facts
Name:
Morus capensis
Diet Description:
Cape Gannets feed on shoaling pelagic fish such as sardines and pilchards, consuming roughly 300g per day.
Habitat:
Within its normal range Cape Gannets are restricted to the continental shelf, at no more than 100 km from the coast. Occasionally they have been recorded on oceanic waters.
Distribution:
Cape Gannets are restricted to the coast of Africa. They are found in waters off the Western Sahara, around
Cape Agulhas
and
the Cape West Coast
to the Gulf of Zanzibar (Tanzania) and occasionally to Mombasa (Kenya) on the east coast of Africa.
Reproduction:
Cape Gannets are colonial breeders. The season begins in August when the pairs form and nests are rebuilt. Nest mounds are built on guano and are unlined.A single blue egg is laid and quickly becomes coated in brown guano.
Most eggs are laid in October. The eggs are incubated for approximately 40 days. Both adults incubate the eggs using the webs of their feet. Both parents care for the chick for 97 days before it goes to sea.