South Africa Wildlife
Blue Waxbill {Uraeginthus angolensis}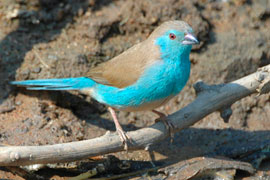 The Blue Waxbill is a small, slender powder-blue bird, smaller than a sparrow. The bill is short and conical and pinkish-grey in colour. The crown, back of the head and back are light brown.

The rump is light blue and the face and upper breast are light blue. In the male the underparts, save for the belly centre and undertail coverts are bright sky blue. In the female, the blue extends only onto the breast and flanks, and the belly is off-white.



Quick Facts
Name:
Uraeginthus angolensis
Distribution:
Common all over southern and
South Africa
.
Habitat:
Woodlands and grasslands with shrubs.
Diet Description:
Insects and seeds.
Size:
12 cm
Socialisation:
Usually seen in loose parties, or in pairs when breeding, they are often in the company of other small seedeaters. Fly into the nearest tree when disturbed
Reproduction:
They breed mainly from December to May. The nest is a small round ball with a short spout like entrance on the side. The nest is built from green, flowering grass stems.