Gauteng Things To Do
Visit Joburgs oldest Restaurant (Johannesburg Central)
Categories: Cafés & Eateries
Price group: R1 to R100 per person (see other things to do in this price group)
Available in the following region(s): Johannesburg
Stay Overnight: See Johannesburg Central accommodation, in Gauteng
Address: 11a Kort Street, Johannesburg, South Africa.
Telephone: +27 (0)11 834-8048
Opening hours: Please enquire.
To see more restaurants:
South Africa Restaurants / Gauteng Restaurants / Johannesburg Central Restaurants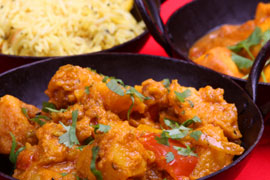 Kapitan's Oriental provides traditional Indian curry cuisine at their restaurant in Johannesburg.

Visit Joburg's oldest restaurant (over a century) and still going strong despite its downtown location. Kapitan, who has been cooking curries for over 57 years, remembers Mandela sampling his first Campari here.

Beware the Madras curry - its hot enough to start a fire.
Why Not Overnight?
Find Accommodation in Johannesburg Central
The striking new 15m high Pyramid Structure, located in the heart of Johannesburg, is a hi-tech state-of-the-art venue, perfect for functions for as few as 12 or as many as 1000 people ...
The AstroTech Conference Centre in Parktown, Johannesburg is in a gracious mansion in one of the most historic and beautiful areas of South Africa. The AstroTech Conference Centre is a high-end business focused conference centre with competitively priced ...
Related Pages
Travelling to Johannesburg Central
• Johannesburg Attractions
• Johannesburg Accommodation
• Johannesburg Hotels