Gauteng Things To Do
Visit Joburgs oldest Restaurant (Johannesburg Central)
Categories: Cafés & Eateries
Price group: R1 to R100 per person (see other things to do in this price group)
Available in the following region(s): Johannesburg
Stay Overnight: See accommodation in Johannesburg Central, in Gauteng
Address: 11a Kort Street, Johannesburg, South Africa.
Telephone: +27 (0)11 834-8048
Opening hours: Please enquire.
To see more restaurants:
South Africa Restaurants / Gauteng Restaurants / Johannesburg Central Restaurants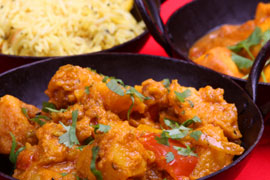 Kapitan's Oriental provides traditional Indian curry cuisine at their restaurant in Johannesburg.

Visit Joburg's oldest restaurant (over a century) and still going strong despite its downtown location. Kapitan, who has been cooking curries for over 57 years, remembers Mandela sampling his first Campari here.

Beware the Madras curry - its hot enough to start a fire.
Why Not Overnight?
Find Accommodation in Johannesburg Central
Mapungubwe is a luxury four- star hotel with contemporary African design and décor. Top class facilities include 91 themed apartments, restaurant ...
Since the world discovered Johannesburg, discerning travellers from around the globe have made Protea Hotel Parktonian their venue of preference. ...
Related Pages
Travelling to Johannesburg Central
• Johannesburg Attractions
• Johannesburg Accommodation
• Johannesburg Hotels