Eastern Cape Things To Do
The Snake Park (Humerail)
Categories: Animal Sanctuaries / Family Entertainment
Price group: R1 to R100 per person (see other things to do in this price group)
Available in the following region(s): Port Elizabeth
Stay Overnight: See Humerail accommodation, in Eastern Cape
Address: Bayworld Museum Complex, Beach Road, Humewood, 6013, Port Elizabeth, Eastern Cape, South Africa
Telephone: +27 (0)41 584-0650
Opening hours: Daily from 09h00 to 16h30.
Closed on Christmas Day.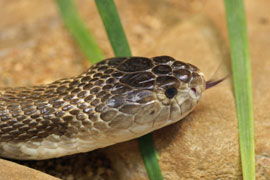 For a spine chilling and thrilling experience make a turn at the Bay World Snake Park in Port Elizabeth. Here you will discover a vast range of reptiles such as Terrapins, Tortoises, Crocodiles, Lizards and of course our slithering Snake friends.

This extraordinary Snake Park will allow you to observe and learn more about these frightful creatures and help you gain an understanding of them. Find out what type of snakes you may find in your garden in the Bay area or which snake the longest in the world. Which snake causes the most deaths in Africa? Which one plays dead to defend itself?

Find out the facts and see which ones are dangerous and should be avoided should you happen to come face to face with one. Bay World Snake Park has been going since 1919 and strives to educate and fascinate those who visit.
Why Not Overnight?
Find Accommodation in Humerail
Humerail Bed and Breakfast offers elegant accommodation in a warm and relaxing atmosphere. It is ideal for business and pleasure, perfectly situated as a gateway to all that can be enjoyed in Port Elizabeth area. The location is equipped with all of the necessary modern ...
Spoil yourself and visit Sir Roys at the Sea for either business or leisure and experience unique panoramic views of the Nelson Mandela Bay. We are conveniently situated and within walking distance of the beautiful beaches of the friendly city of Port Elizabeth ...
Related Pages
Travelling to Humerail
• Humewood Accommodation
• Humewood Attractions
• Port Elizabeth Accommodation
• Bayworld Museum Complex
• Things to Do in Port Elizabeth