Western Cape Events
Delheim Start of Harvest Festival (Stellenbosch)
When: Saturday, 25 January 2014 to Sunday, 26 January 2014
Where: Stellenbosch
Categories: Annual Festivals / Entertainment / Outdoor Events
Stay overnight: See accommodation in Stellenbosch, in the Western Cape
Please Note: This event has already taken place. Please check our Current and Upcoming Events List for current events.

Its that time of year again to celebrate at the Delheim Start of Harvest Festival. Headlining once again is the famous grape stomp, where teams will clash in pursuit of producing the most juice.

On arrival guests are given a traditional harvest treat: a glass of grape must and a sweet 'mosbolletjie' - necessities to toast the new vintage! The Winelands fun continues with a guided cellar tour; a buffet style lunch will be set up in the Vat Cellar. Help yourself and enjoy lunch on the lawns at the rivers edge .. the live band will entertain you as you sit back and relax!

Tickets will be restricted to 120 bookings per day which includes all activities and food as well as a Delheim wine glass. Tickets are R220 for adult and R110 per child under the age of 12. Children under the age of 2 are free. Pre-booking is essential.

Venue: Delheim Wine Farm, Knorhoek Road, off the R44, Stellenbosch
Telephone: +27 (0)21 888-4600 for more information
Please note that event and festival details can change. All event information is published in good faith as supplied by the organisers. Please check with the organisers that the event is happening before making your travel arrangements.
Stay a Day or Two?
Find Accommodation in Stellenbosch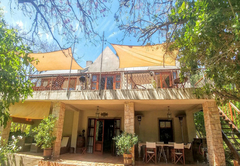 Nestled at the foothills of the Stellenbosch Mountain and offering a refuge from the hustle and bustle of everyday life, Aan de Vliet has a country ...
Bonne Esperance is a charming Victorian Villa with wrap-around veranda, cast iron mouldings and corner-turret. Originally built in 1901, the house ...
Related Pages
Stellenbosch Tourism
• Stellenbosch Accommodation
• Stellenbosch Attractions
• Stellenbosch Bed and Breakfast
• Cape Winelands Search By Map
• Western Cape Hotels