Western Cape Events
Crayfish & Seafood Festival (Paternoster)
When: Dates to be confirmed
We regret, the dates for this event have not yet been confirmed with us. Our apologies for any inconvenience. Event organiser please contact us with the date for this event.
Where: Paternoster
Categories: Annual Festivals / Entertainment / Food & Wine
Stay overnight: See accommodation in Paternoster, in Western Cape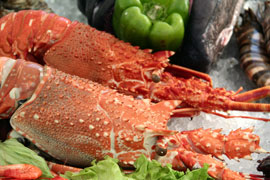 Your eyes and taste buds will come alive when you stop off in Paternoster for their Crayfish & Seafood Festival. This annual festival includes snoek braai's, seafood poitjie kos and of course delicious crayfish. The day's focus is on seafood, however there will be a beer garden as well as arts and craft stalls with sea shells and ornaments.

Once you have your ticket in hand and are standing at the entrance gate you will be welcomed with a glass of wine and directed to a boat where you will have a selection of Crayfish to choose from. When you have your chosen one it will be cooked or thrown on the coals for a Lekker Braai and you glass of wine will be topped up while you wait.

Your children can have their face painted or jump on the jumping castle while the dj will entertain the crowd with some great beats. One of the fisherman can also take you out on his boat and if you are lucky you will catch a glimpse of the seals & penguins.

Many competitions will be happening throughout the day, such as the biggest catch of the day and the best crayfish potjie.

Venue: Paternoster Sport Grounds
Tickets: Tickets available on the day or pre-sold
Contact: Jenni on +27 (0)83 692-2201

Please Note: Dates for this event to be confirmed.
Stay a Day or Two?
Find Accommodation in Paternoster
Situated just one kilometer out of Paternoster, Farr Out is surrounded by Fynbos and the small Five (deer, marten, tortoise, Francolins and rabbits). ...
Inspired by the traditional whitewashed fishermen's cottages, Seaside 1 and 2 allow romantic couples, small families or friends to savour the ...
Related Pages
Paternoster Tourism
• Paternoster Bed & Breakfast
• Paternoster Hotels
• Things to Do in Paternoster