Garden Route Events
Garden Route 300 (Knysna)
When: Friday, 21 February 2014 to Sunday, 23 February 2014
Where: Knysna
Categories: Outdoor Events / Sporting Events
Stay overnight: See accommodation in Knysna, in the Garden Route
Please Note: This event has already taken place. Please check our Current and Upcoming Events List for current events.

The Cannondale Garden Route 300 welcomes you to ride Knysna and surrounds on the 21-23 February 2014.

The Garden Route 300 the ultimate ride in Knysna, to share with the like-minded MTB fanatics, the best rides in Knysna - without the hassle of lugging your kit around from truck to tent to truck. Arrange your own accommodation or if you're a local, ride from home, but join the vibe! Do your warm-up ride from your B&B to the start, and enjoy a cup of coffee and a rusk, before the days' adventure begins.

Race entry fees includes all meals except breakfast - all lunches and dinners - each with a Knysna twist. This is no ordinary race!
Please note that event and festival details can change. All event information is published in good faith as supplied by the organisers. Please check with the organisers that the event is happening before making your travel arrangements.
Stay a Day or Two?
Find Accommodation in Knysna
Situated along the Garden Route, overlooking the Knysna Lagoon, The Idle Monkey is a country-style thatched roof home featuring a lush garden, plunge ...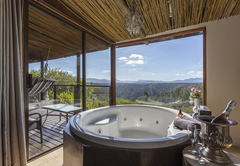 Beaming with casual luxury.. Forest Valley embraces the dramatic beauty of the coastline town of Knysna with mountain and forest views. The offer of ...
Related Pages
Knysna Tourism
• Knysna Attractions
• Knysna Events & Festivals
• Things to do in Knysna
• Knysna Hotels
• Knysna Accommodation