Garden Route Destinations
Storms River, Tsitsikamma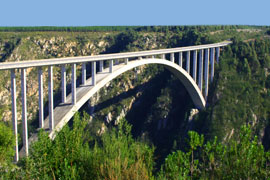 Once you've booked your Storms River accommodation explore our pages for info on attractions and what to do in Storms River.

The Storms River, just one of a number of rivers in this region, originates in the Tsitsikamma Mountains and makes its way through forests thick with ancient Yellowwood, Hard Pear Trees and distinctive Cape fynbos, before reaching the sea at the eastern end of the Tsitsikamma National Park, which stretches for 80 kilometres from the Krom River forest station to the Salt River and is one of Africa's oldest and largest marine reserves.

There is a little village here called Storms River, which nestles virtually at the perimeter of the Tsitsikamma (place of many waters) National Park, famed for its adventure activities. But 'Storms River' has become something of a synonym for the wild, crashing seas and breathtaking views of Storms River Mouth, and the incredible suspension bridge that serves as a lookout point over stormy seas and precipitous cliffs through which the Storms River tumults into the sea.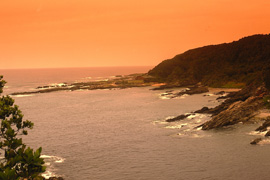 There is little written material available that adequately describe the beauty of the surrounds of Storms River. A detour off the road and into the Tsitsikamma National Park to Storms River Mouth is obligatory if you are a visitor to this region. There are a number of short walking trails and it is from here that the
Otter Trail's
strenuous five-day hike begins, exploring the deep ravines, gorges and cliff edges of this rugged coast.
Storms River village provides a number of adventure activities like the Canopy tours, bungi jumping from the
Bloukrans River Bridge
, which claims to the be the world's highest at 216 metres, biking trails, fishing excursions and Black Water Tubing and kloofing, but the star of the show is nature herself and the meeting place of forest, precipitous cliff and stormy seas.