Gauteng Destinations
Sandown, Sandton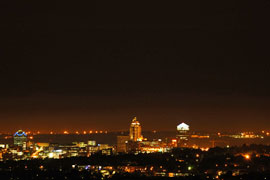 Once you've booked your Sandown accommodation explore our pages for info on attractions and what to do in Sandown.

One of a number of suburbs in the northern reaches of Johannesburg with 'san' prefixed to its name as an indication of its association with Sandton, Sandown lies virtually between Morningside and the Sandton CBD, a prime position in Johannesburg.

The neighbourhood of Sandown is dominated by business that has spread from the inner reaches of Sandton to claim former residences, large sprawling properties and a number of cluster developments, although these mainly hug the eastern reaches of the suburb. Homes here lie on large properties, their gardens leafy and well maintained behind towering retaining walls that are a pre-requisite to suburban living in Johannesburg.

Sandown is really only a stone's throw away from Sandton Square, and Sandton City, the dominating malls of Sandton, and the Sandton Convention Centre. Hard to believe that this part of Johannesburg was a wide expanse of highveld just over 20 years ago, given over, in much the same way as the upper reaches of Midrand (although this too is swiftly being eaten up by development), to small farms owned mainly by the horsey set.

Sandton's obvious sophistication, expensive shops and world-class hotels and restaurants make Sandown a sought-after address and an ideal location when in the city, particularly if business is high on your agenda.
Get the Scoop
Sandown Reviews

"My family has lived in Sandown for as long as I can remember so this is often where I stay, the area is leafy and ..." - Tania, Cape Town
Related Links
Featured Attractions in (or near) Sandown

Situated in the heart of Sandton Central, in Johannesburg, South Africa, the Nelson Mandela Square is surrounded by world-class hotels and restaurants. The popular Sandton City Shopping Centre is adjacent to the Square. Sandton Square made headlines when, commemorating South ... more information

Sandton City
One of the main attractions in Sandton is Sandton City. This shopping centre is ranked among the largest shopping centres in Africa. Together with Nelson Mandela Square, the centre boasts over 144,000m² of shopping space making it the largest in the Southern Hemisphere! It is definitely any shoppers Mecca.

Sandton Convention Centre
Sandton is home to one of the largest convention centres on the continent. The 12-storey building has more than 22 000 m² of meeting, exhibition and special-event space. Multiple events can be staged simultaneously on four levels and up to 10 000 delegates can be hosted at any one time. Capacities range up to 4 500 guests.
Related Links
Things To Do in Sandown

Where: Sandton
How much (per person): On Request
Sandton is home to this glamorous nightclub, which is so very progressive and contemporary. Taboo has two storeys, with house music on o ... more information

Where: Sandton
How much (per person): Free to Browse
Outside the Village Walk Shopping Centre on Maude Street, this African culture market brings authentic African goods to the visitors of Sand ... more information
Related Links
Events and/or Festivals in Sandown

Location: Sandown
Duration: 3 days


Location: Sandton
Duration: 1 day

Related Links
On Holiday in Sandown
• Sandown Map
• Sandown Accommodation
• Sandown Hotels
• Sandton Accommodation
• Sandton Hotels
• Gauteng Accommodation