Gauteng Tourist Attractions
Gold Reef City, Johannesburg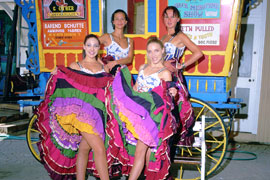 Gold Reef City is a huge and very popular entertainment complex made up of a theme park and casino facilities.

At Gold Reef City you will find experiences that you would not find anywhere else - it's a combination of fun, fantasy, historical fact all in a safe environment with great parking facilities.

The casino at Gold Reef City' is open 24 hours a day and offers an energetic atmosphere, highly trained staff and an abundance of gaming choices. The arena caters for everybody's gaming tastes with slots, tables, sports betting, Salon Privé for the high rollers and more. Gold Reef Cities appeal is broad. International travellers savour the offering of traditional African music, dance and history found throughout the complex. The carefully-documented history of Apartheid, chillingly yet beautifully depicted in the Museum, is a must-see on a South African visit.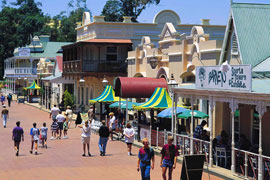 And nowhere else will the tourist find such a comprehensive and colourful depiction of mining life at the turn of the nineteenth century. Learners lap up the educational content, their minds sharpened by the adrenaline-spiking rides in the theme park. The history lesson is brought to life; youngsters are not just hearing how Johannesburg had its origins, but are seeing, feeling and tasting it.
Even those in suits can appreciate the City Without Limits. Countless companies have chosen Gold Reef City to host conferences or other serious events. And, depending on the programme, the workers simply walk to the fun when the work is done. Good value, good fun and variety are only part of the story behind Gold Reef City's success. Friendly faces, helpful guides and notices, and ample opportunity for rest and refreshment, keep the visitors coming back. Aggressive and targeted marketing has built on these strengths. Gold Reef City has become a strong, well-known and visible brand that promises "more winners in more ways".
It is well worth a visit to Gold Reef City, to see how this entertainment package is put together and presented. At the same time dare to test-drive one of the over thirty thrilling fun-rides on offer.
Gold Reef City
Accommodation nearby
For accommodation nearby see:
• Auckland Park Accommodation • Bedfordview Accommodation • Braamfontein Accommodation
• Craighall Park Accommodation • Cresta Accommodation • Darrenwood Accommodation
• Douglasdale Accommodation • Dunkeld West Accommodation • Emmarentia Accommodation
• Joburg Central Accommodation • Kensington Accommodation • Lanseria Accommodation
• Linden Accommodation • Marshalltown Accommodation • Melville Accommodation
• Midrand Accommodation • Northcliff Accommodation • Norwood Accommodation
• Observatory Accommodation • Orchards Accommodation • Ormonde Accommodation
• Parkhurst Accommodation • Parktown Accommodation • Parkview Accommodation
• Parkwood Accommodation • Randburg Accommodation • Sandton Accommodation
• Saxonwold Accommodation • Soweto Accommodation • Westcliff Accommodation

Or to see all accommodation in this region, visit Johannesburg Accommodation.
Related Links
Attractions / Activities nearby

The Apartheid Museum is the story of the triumph of the human spirit over adversity. Beginning in 1948, the white elected National Party government initiated a process which turned over 20 million people into 2nd class citizens, damning them to a life of servitude, humiliation and abuse. Their liberation in ... more information

Based in Rosettenville Johannesburg, opposite the Rand Stadium, the James Hall Museum of Transport is an incredible collection of over 400 years' worth of various modes of land transport that range from steam driven vehicles, trains, trams and trolley buses, to animal drawn carriages, early bicycles and cars of ... more information

In Johannesburg when you speak about 'going to the races' you're usually referring to spending a day watching horses race at the Turffontein race track, one of the oldest horse racing venues in South Africa, built in 1887. Set in the southern suburbs, Turffontein is easy to get to from the M2 highway, has plenty ... more information

destinations / attractions in gauteng