Gauteng Destinations
Craighall Park, Johannesburg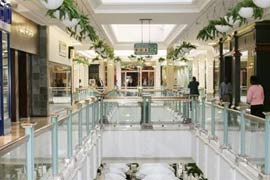 Once you've booked your Craighall Park accommodation explore our pages for info on attractions and what to do in Craighall Park.

Craighall Park is one of Johannesburg's upmarket northern suburbs that lie slightly to the west of Sandton, a collection of leafy neighbourhoods that form a belt on the western side of the city between Parkhurst and the sprawling malls of Sandton's Central Business District.

Craighall Park is also one of the oldest suburbs of the city, and Craighall Park's large properties and epic gardens that lend the neighbourhood a sense of green tranquillity despite the proximity to Jan Smuts Avenue are a throwback to the era when plots, rather than stands, were on offer here. You're well placed to get around the city from Craighall Park - it lies conveniently between Beyers Naude Drive and Jan Smuts Avenue, two of the major arteries in the northern spheres of Johannesburg that easily get one from A to B, notwithstanding traffic, and you're close to the M1.

Hyde Park shopping centre is just around the corner and popular for art movies on a Tuesday evening amongst locals who throng just under the escalators. It's just as busy on a weekend morning when Jo'burgers do breakfast in style. And both the River Club golf course and the Sandton Sports Club are close by for those seeking a round of golf.

A stay in the northern suburbs of Johannesburg is incomplete without a trip to the energetic hub of fashion, coffee shops and numerous shops that is Sandton City.
Get the Scoop
Craighall Park Reviews
Visitorials: We Love South Africa
Craighall Park Visitorial

Related Links
Featured Attractions in (or near) Craighall Park

The Apartheid Museum is the story of the triumph of the human spirit over adversity. Beginning in 1948, the white elected National Party government initiated a process which turned over 20 million people into 2nd class citizens, damning them to a life of servitude, humiliation and abuse. Their liberation in ... more information

Delta Park is a rather large green lung in northern Johannesburg that lies nestled in amongst the suburbs of Victory park, Blairgowrie and Craighall Park. Whilst always popular with residents and their dogs, the park earned a fair amount of bad press at one stage and was regarded as only safe to do ... more information

Sandton City
One of the main attractions in Sandton is Sandton City. This shopping centre is ranked among the largest shopping centres in Africa. Together with Nelson Mandela Square, the centre boasts over 144,000m² of shopping space making it the largest in the Southern Hemisphere! It is definitely any shoppers Mecca.
Related Links
Things To Do in Craighall Park

Where: Fourways, Rivonia, Paulshof and Craighall Park
How much (per person): On Request
While your attempt of the yoga 'Downward Facing Dog' pose may be less than flattering, the sweetness of a downward facing 'puppy' pose is mo ... more information
Related Links
On Holiday in Craighall Park
• Craighall Park Accommodation
• Craighall Park Hotels
• Johannesburg Accommodation
• Johannesburg Hotels
• Gauteng Accommodation