Gauteng Destinations
Bedfordview, Johannesburg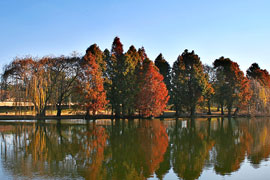 Once you've booked your Bedfordview accommodation explore our pages for info on attractions and what to do in Bedfordview.

Other than Edenvale, the garden suburb of Bedfordview is one of the closest suburbs of Johannesburg to the OR Tambo Airport, so for business people dipping into the city only briefly, Bedfordview is an ideal location.

Aside from that, this part of Johannesburg, east of the city centre is a quiet and leafy place to stay for anyone, the upmarket neighbourhood almost park-like due to the tree-lined streets and lush gardens with prolific bird life. Bedfordview is only 15 minutes from the Johannesburg vibrant CBC (downtown Johannesburg). The inner city is not only the historical centre of the city but is part of an inner city regeneration project that hopes to reinstate this part of Jo'burg to its former economic and cultural glory. The aim is to transform the inner city to a place that is clean and green and safe for residents and visitors alike.

The leafy suburb of Bedfordview is close to a number of shopping malls, including the epic Eastgate with its myriad shops, entertainment venues and excellent restaurants; and Bruma Lake flea market, which is a conversion of an old sewerage catchment area into a lakeside market, mall and commercial parks. It's a great place to while away a couple of hours and with at least 600 traders, there's a lot to choose from.

You probably have to be a Jo'burger to know about Gillooly's farm, set in the heart of Bedfordview. It's virtually a farm in the middle of the city and the tranquil atmosphere is very popular amongst locals for picnics along the lake under the trees. There are some wonderful views over the Kensington valley and the northern suburbs from here.
Get the Scoop
Bedfordview Reviews
Related Links
Featured Attractions in (or near) Bedfordview

Home to the largest collection of money used in South Africa's past in the world, Absa Money Museum lies in downtown Johannesburg on Fox Street. The ABSA Money Museum is the only banking and money museum in the country, and holds a fascinating history of how economic, political and social change ... more information

The Apartheid Museum is the story of the triumph of the human spirit over adversity. Beginning in 1948, the white elected National Party government initiated a process which turned over 20 million people into 2nd class citizens, damning them to a life of servitude, humiliation and abuse. Their liberation in ... more information

Bruma Lake Flea Market, very close to Eastgate shopping mall in the southern suburbs, is one of the biggest flea markets in South Africa, and you'll find almost anything you can think of here. Bruma is an array of West African wood crafts, designer clothing, wire art, homemade toys, plastic gadgets, arts and crafts, curios ... more information
East Rand Mall
East Rand Mall is situated 7km away from OR Tambo Airport. The Mall includes all of South Africa's Major Chain Stores and a host of smaller specialised stores. Extensive entertainment facilities, which include a Games Arcade, Restaurants, Coffee shops, a nine theatre Cinema Centre and an exciting Food and Entertainment Mall.
Formerly officially known as Johannesburg International Airport, the OR Tambo International Airport is a large airport near the city of Johannesburg, Gauteng, South Africa. It serves as the primary airport for domestic and international travel to or from South Africa. It is Africa's busiest airport, handling over ... more information
Related Links
Things To Do in Bedfordview

Where: Bedfordview
How much (per person): Free to Browse
The recently restructured Bedford Centre is now home to 62 000m² of retail space with plenty of shops to keep your browsing. More than 13 ... more information
Related Links
Events and/or Festivals in Bedfordview

August

August
Related Links
On Holiday in Bedfordview
• Bedfordview Map
• Bedfordview Accommodation
• Bedfordview Hotels
• Johannesburg Accommodation
• Johannesburg Hotels
• Gauteng Accommodation