South Africa Outdoor Activities
Rapp Jumping in South Africa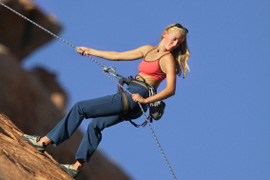 South Africa
Rapp Jumping - The close sister of
abseiling
, rapp jumping is a relatively new sport in
South Africa
. With a specialized rope attached to your back, you literally run down the sides of buildings and mountain rock faces - clearly a thrill sport not for the fainthearted.
Essentially, rapp jumping is abseiling, but with the ropes attached to your back instead of your front. It is a technique that was developed about 14 years ago in Australia for their special forces. Today it has become a popular and exciting adventure for those wishing to experience new highs of pure adrenaline rushing sports. Feel the exhilaration and thrill as you run down a steep cliff or city building! Rapp jumping offers one of the wildest rushes ever!
Rapp jumping is an exceptionally specialised sport in
South Africa
and has only a few sites situated throughout the country. There are rapp jumping sites located in the Northern
Drakensberg
, Johannesberg,
Pretoria
and
Durban
. Pure Rush Industries is an urban adventure company offering awesome rapp jumping adventures off buildings in Johannesburg. All instructors are professionally trained and will provide you with expert advice. A fantastic rapp jumping location is the the looming Samlam Sentrum building in Pretoria.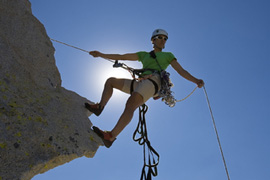 Little Africa Safaris offer thrilling rapp jumping adventure packages throughout the country and especially their Adventure Teambuilding. Adventure Teambuilding offers the opportunity for people to experience an overwhelming sense of achievement and increased sense of self-confidence. They also have a portable climbing and abseiling wall that can be used for rapp jumping and is transported to where ever it is needed.
180 Degrees Adventures has offices in Cape Town, Durban and Johannesberg offering thrilling and elating rapp jumping opportunities. Active Africa Adventure Tours is a Western Cape based adventure program offering a broad spectrum of adrenaline adventures including rapp jumping. The
Golden Gate National Park
located in the picturesque Drakensberg region of the
Free State
offers fantastic rapp jumping opportunities. The magnificent sandstone landscapes form a perfect backdrop for this thrilling adventure. Once you reach the top, you will be in awe of the exquisite view and magical terrains. Then, it goes downhill from there.
South Africa offers awesome opportunities for thrilling rapp jumping adventures. Conquer your fears and take the leap.

Looking for Things to Do in South Africa?
Search for extreme adventure destinations (and service providers), site seeing cruises, scenic flights and other activities ... See
Things To Do in South Africa
.