South Africa Outdoor Activities
Mountain Climbing in South Africa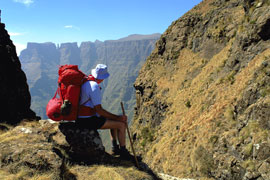 Mountain Climbing in South Africa -
South Africa
has a vast amount of majestic and looming mountain regions ideal for exhilarating mountain climbing adventures. South Africa's mountainous regions boast picturesque views of waterfalls, lush forests and valleys promising you a breathtaking mountain climbing adventures.
The
Western Cape
offers famous
Table Mountain
, Signal Hill, Lion's Head, the recently re-opened Chapman's Peak and the lush
Cederberg
Mountains. The view from these mountains is absolutely magnificent and sure to leave you speechless. Table Mountain is the cradle of rock climbing in
South Africa
. From Table Mountain one can see the massive city and the shimmering ocean as far as your eye can see. You will be able to see
Robben Island
from this amazing vantage point.
Lion's Head is approximately 1 hour and 30 minutes up and has become so popular on warm, clear evenings that you can expect to find long queues up the mountain. Another popular mountain climb is up Myburgh's Waterfall Ravine. This is a wonderful adventure particularly on a hot day when the cool shade of the ravine provides respite from the searing sun. This route boasts pristine indigenous vegetation and a wonderful narrow upper gorge. The Cederberg region also boasts picturesque scenery and fantastic mountain climbing opportunities.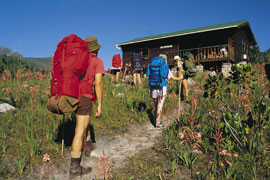 KwaZulu Natal
and the
Drakensberg
are renowned for breathtaking views and unique South African mountain climbing adventures. The Drakensberg is Southern Africa's mightiest mountain range and especially beautiful when snow capped in winter. Also, witness the magnificent frozen waterfalls in winter and the lush forests and valleys. This area promises an unforgettable South African mountain climbing experience.
Mpumalanga
boasts the famed Restaurant at the end of the Universe which is any enthusiasts climbing Mecca. The
Eastern Cape
boasts the picturesque
Baviaanskloof
Wilderness Area to mention a few. This area is an ideal getaway to city dwellers and all mountain climbing enthusiasts. Observe the magnificent indigenous forests, awesome wildlife and fauna and flora.
Hogsback
in the Eastern Cape is absolutely magnificent offering numerous mountain climbing hikes. When climbing, observe the magnificent famed waterfalls and lush valleys. Be cautious obviously of the hog that makes this place famous. Be sure to collect memoirs of carved hogs to remember this fantastic South African mountain climbing trip.
No matter where you choose to go mountain climbing, this magical country promises an unforgettable time with breath-taking views. Enjoy mountain climbing in South Africa with friends and family for a memorable adventure.
South Africa Outdoor Activities
Featured Climbing Destinations

Where: Observatory
How much (per person): On Request

CityRock is Cape Town's centre for all things related to the sport of Rock Climbing. The facility at CityRock features a large top rope and lead ... more information

Where: Umhlanga
How much (per person): On Request

The Worlds Highest Indoor Climb. 'The Rock' offers amazing adrenaline-pumping activities including once-off casual climbing, rock climbing ... more information