South Africa Outdoor Activities
Kloofing (Canyoning) in South Africa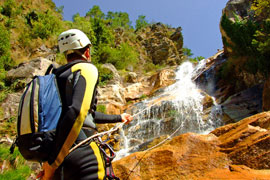 High in the mountains, whilst most people try their best to stay away from the edges of cliffs, there are a number of adrenaline junkies who's mission is to find the highest cliff possible and jump off into the icy waters below. Known as canyoning, the art of kloofing in South Africa is a sizzling favourite and very popular amongst thrill seekers.
Essentially, kloofing is the art of following a mountain stream down its course by floating, jumping and swimming. Kloofing takes place in a river gorge deep in the mountains. There are inherently a few dangers involved, but that's what makes it a worthwhile venture for those seeking new levels of excitement. A secondary bonus is that you're privy to some incredible scenery whilst you're exploring these mountain rivers.
Kloofing in South Africa started in the
Western Cape
and whilst the rest of
South Africa
has slowly caught on, the Western Cape remains Africa's kloofing hotspot. Favourite kloofing spots include the lush Western Cape at Steenbras River Gorge,
Gauteng
at the Crocodile River and in
Mpumalanga
at the
Sabie
River. The Cape mountains, warm climate, cold mountain water and hard sandstone are the key elements that form the unique river gorges and valleys which make for fantastic and exciting kloofing. The thrill takes place when wondering how deep the pools actually are as the water remains dark and unknown.
Popular of the Cape Kloof's includes Suicide Gorge. It is a very steep kloof and contains a sequence of notorious compulsory jumps. Some jumps are over 13m high! Die Hel is a famous pool in the
Groot Winterhoek
mountains in the Western Cape. It is a 15km hike and is surrounded by cliffs and a large but magnificent waterfall. The Ratel River near the Western Cape town of Porterville, is a enjoyable river for self-guided kloofing. All trips can be done as an escorted trip.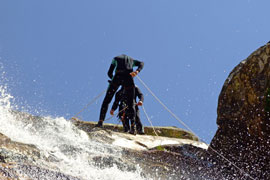 There is a guided and overnight adventure kloofing trip on the Nuy River near
Montagu
in the Western Cape. Spend the day enjoying thrilling kloofing adventures, sipping on well-deserved drinks and enjoying great company with friends. Spend the evening cuddling by the fire and chatting about your day's kloofing adventures.
When enjoying kloofing in
South Africa
, be sure to go to
Baviaanskloof
at Bobbejaans River. This kloofing adventure starts with a steady uphill hike approximately 1-2 hours long and runs parallel to the river. At the top is the magnificent waterfall which you can see for some distance. It awaits your discovery and invites you for a challenging kloofing jump. If you want to shorten your trip, you can also cut down into the kloof from an earlier point on the path. Baviaanskloof offers magnificent scenery and challenging kloofing experiences.
In
KwaZulu Natal
, the Mfongosi River is renowned for very high and steep rockslides offering extreme kloofing experiences. The scenery is magnificent and breathtaking. FriXion kloofing offers adventures for beginner and expert kloofers. Kloofing in South Africa offers thrilling jumps, breath-taking views an unforgettable experiences with friends and family. Conquer your fear and meet your South African kloofing challenge!
South Africa Outdoor Activities
Featured Kloofing Destinations

Where: Western Cape
How much (per person): On Request

Kloof is the Afrikaans word for ravine/gorge. Kloofing is an adventure activity which utilises these natural little 'valleys'. Typically the... more information

Where: Hekpoort, Magaliesberg
How much (per person): R201 to R500

Kloofing, also known as Canyoneering is exhilarating! First, a sunny hike up the river valley, then wading through crystal clear pools, clam... more information

South Africa Car Hire
Hire from international and local companies, offering a wide range of cars, from budget to luxury groups.