South Africa Outdoor Activities
Horse Racing in South Africa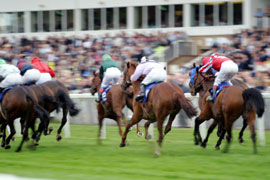 Horse Racing in South Africa - From small beginnings in the late 1700's, horse racing is now a multi million rand hobby and has many thousands of participants and supporters.
South African horse racing is hugely popular amongst the rich and famous of the country. A day at the South African tracks is a glamorous event where all the big spenders come out to play.
South Africa
is home to 3 famous horse races that take place in it's three principal cities. Johannesburg hosts The Summer Cup where the first prize will award you with R1.2 million in prize money, Cape Town hosts The J&B Met (at
Kenilworth Race Course
) and Durban hosts the primary event known as The Durban July, which has been running since 1897. Whether you're a horse racing fanatic or not, a day at one of these 3 races is an eye opening event.
It's not just about the horses, ladies and gents alike come out arrayed in the most incredible designer outfits - most of which are designed for visual appeal rather than practicality. Large hats and vibrant colors are the order of the day and once the race is over, most supporters head out to one of many after parties until the early morning hours.
Because of the inherent competitive nature of horse racing, betting is always part and parcel of every race. Saftote is the controlling agency in charge of keeping all betting within stipulated regulations. Horse racing in
South Africa
is controlled by two organizations, namely Phumelela Gaming and Leisure Limited and Gold Circle. Phumelela controls racing in the
Free State
,
Northern Cape
,
Eastern Cape
and
Gauteng
whilst Gold Circle controls the racing in the
Western Cape
and
Kwazulu Natal
.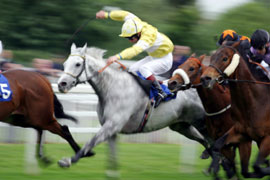 South Africa has a number of world class locations where horse races are held. In the Eastern Cape, there is the Arlington and Fairview race course. The Free State is home to the
Bloemfontein
and Vaal race course whilst Gauteng is known for the Newmarket and Turffontein race courses. Kwazulu Natal lays claim to the Clairwood and
Greyville Turf Club
and the Scottsville Race course. In the Northern Cape you'll find the Griqualand and in the Western Cape there are the Milnerton and
Kenilworth Race Course
.
South African horse racing jockeys were not always as valued and esteemed as they are today. It was a lowly profession in the 19th century and involved significant deprivation and humiliation. Horse racing jockeys had to live in the stables, and even slept in the same premises as the horses. Nowadays however, South African horse racing jockeys are as well known as the tracks and the horses they ride on and earn into the hundreds of thousands for each race won.
Whether you've got money to bet, or whether you just want to mingle with the rich and famous, horse racing in South Africa is an exciting and an eventful sport that will not disappoint.
South Africa Outdoor Activities
Featured Horse Racing Destinations

Where: Kenilworth
When: Annualy in January

The stage is set for a record day in every respect when the gates open at Kenilworth Racecourse in Cape Town on Saturday morning, for one of ... more information

Where: Durban
When: Annualy in July

Africa's greatest horseracing event takes place on the first Saturday in July every year. The excitement of Vodacom Durban July Day surpasses that of ...more information

Looking for Things to Do in South Africa?
Search for extreme adventure destinations (and service providers), site seeing cruises, scenic flights and other activities ... See
Things To Do in South Africa
.