South Africa Outdoor Activities
Fly Fishing in South Africa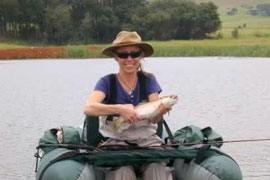 Fly-fishing South Africa - It's an activity that is as mesmerizing to watch, as it is to partake in. Whilst its predominantly enjoyed by the older generation, fly fishing is fast catching the attention and interests of a whole new generation of enthusiasts. The incredible art of fly fishing was initially developed as an angling method to catch salmon and trout. In modern times however, the method has been adapted to include pike, carp and bass amongst others.
Besides the obvious difference in the actual method of casting, normal fishing and fly fishing also vary in the equipment used. Fly fishing rods are a lot lighter and the line used is a lot heaver than normal and is sometimes even tapered. At the end of the line is an almost weightless 'fly' in the shape of a dragon fly, which acts as the fish lure. The artistic element is created by the angler's efforts to cast his fly so gently, that the water is hardly disturbed by the line. The resulting rhythmic movements are a marvel to behold.
Fly fishing in
South Africa
is privileged to have some spectacular locations where enthusiasts and beginners alike can experience the joys and challenges of fly fishing. The South African fly fishing locations are well regulated with no boats or floating tubes allowed. Most locations will charge a nominal daily conservation fee.
The
Drakensberg
Mountains in
KwaZulu Natal
are home to an impressive collection of crystal clear dams and rivers where there are plenty of bass and trout to be caught. The Northern Drakensberg Mountains alone offer nearly 25 unique fly fishing locations - most of which, have more than 1 dam or river to choose from. The Southern Drakensberg Mountains have 7 lovely fly fishing locations to choose from. (See
Fishing Lodges in KwaZulu Natal
).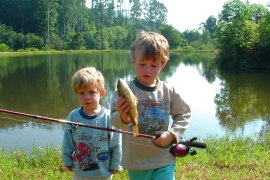 South Africa's game and nature reserves
also offer some remarkable fly fishing opportunities. Tours and packages are available that will allow you to enjoy some awesome fly fishing as well as see some of the wildlife the reserves has to offer. The more commercial fly fishing locations in South Africa will often include fly fishing training for beginners and assistance for those looking to fine-tune their fly fishing techniques.
Just outside of the 'mother city', Cape Town, there are a number of glorious South African fly fishing opportunities. Here, far away from the bustling city, the gentle sounds of the stream, the clean, fresh air and the absolute quiet, make for a incredible day of fly fishing. Whilst less commercially orientated as the Drakensberg locations, the Cape Town Fly Fishing opportunities are just as appealing because of their isolation and solitude - allowing you nothing but time to enjoy the fantastic fishing.
Because of the inherent unpredictability of the rivers and streams in terms of their rise and fall and the difficulty for many fishermen to get in and out of the waters, many South African fly fishing enthusiasts have resorted to Stillwater fly fishing. These man made dams average around 17 acres in size and are incredibly fertile with impressive rates of reproduction and trout caught in such damns have weighed in at over 14 pounds. Whichever route you prefer - natural mountain streams or man made dams, South African fly fishing has an impressive collection of fly fishing locations that are a worthwhile visit for any fly fishing enthusiast.
Please see here for
Big Game Fishing in South Africa
.
South Africa Outdoor Activities
Featured Fly Fishing Destinations