South Africa Outdoor Activities
Crocodile Cage Diving in South Africa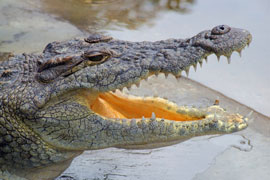 Crocodile Cage Diving South Africa: So you have experienced the thrill of
shark cage diving
and it's time for something new and different. What about Crocodile Cage Diving? Yes, you read correctly. Crocodile Cage Diving is a global first and is only offered in South Africa at the Cango Ranch in
Oudtshoorn
in the
Western Cape
.
Crocodile cage diving is clearly not for the faint-hearted. What makes this so daring is that these crocodiles are 4m long
Nile crocodiles
and are man-eating predators. They view humans as their prey! These animals are considered as super predators and have various adaptations to help them make the perfect kill. Hunting usually takes place in the water, where the crocodile will kill prey by drowning them.
The cages are specifically designed to withstand the crocodile's incredible power as the crocs boast a bite pressure of over two tons per square inch which is 4 times the bite of a Great While Shark. You will carefully be lowered in the croc-proof cage into the crystal clear water that is home to 5 crocs. Goggles and a snorkel will be provided to view these creatures better. The experience gets more adrenaline pumping as the crocodiles spend their time surrounding the cage and considering you as a potential snack! You will also have a souvenir of your thrilling experience as an underwater photograph is taken of you surrounded by crocs! Whilst viewing these ferocious creatures in their natural habitat, check out how amazingly camouflaged they are in the water. Rather a scary thought. After the thrill of a lifetime that will have your heart racing, enjoy a well deserved drink at the nearby restaurant.
South African crocodile cage diving is an experience that will set you back about R400.00, but it is worth the price as it is a once in a life time opportunity. This opportunity is currently only offered in South Africa so be sure not to miss out! This is cage diving with a difference and promises a thrilling adventure.

Looking for Things to Do in South Africa?
Search for extreme adventure destinations (and service providers), site seeing cruises, scenic flights and other activities ... See
Things To Do in South Africa
.