Game Reserves in South Africa
KwaZulu Natal Game Reserves
Some of Africa's most famous nature and game reserves are in the KwaZulu Natal province of South Africa. KwaZulu Natal is one of the few places where excellent game viewing can be enjoyed in close proximity to the pleasures of scuba diving and deep-sea fishing. Habitats from coastal dune forests to open bushveld support a wide diversity of wildlife ...

Click on the KwaZulu Natal game reserve, national park or nature reserve you wish to visit on the map or select from the full list below, to view additional information about the Game Reserves and for listings of all Game Lodges listed in the relevant area.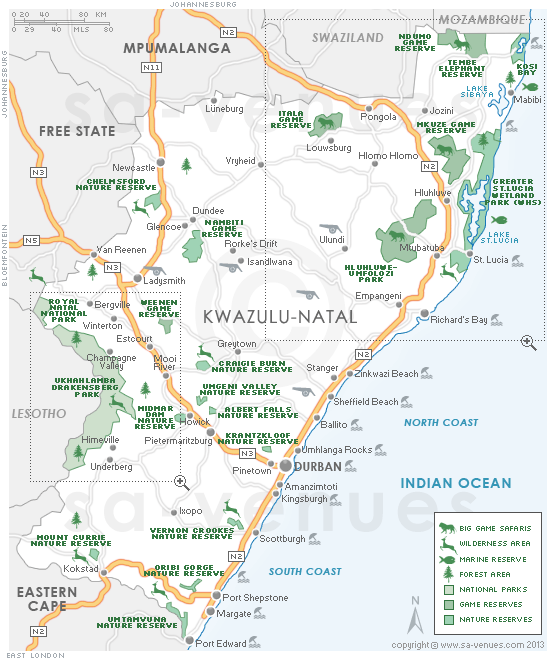 KwaZulu Natal Safaris
Experience a unique KwaZulu Natal Wildlife Safari or KwaZulu Natal Tour / KwaZulu Natal offers visitors an outstanding selection of Big 5 Game Reserves. Choose a package tour ranging from a single overnight stay to multiple days in a Game Reserve or visit one of the KwaZulu Natal Game Reserves as a day trip - There are plenty to choose from at KwaZulu Natal Day Tours.
game and nature reserves in kwazulu natal

Combine your wildlife safari with a relaxing, revitalising visit to a health spa ... and enjoy Africa at its finest. View our exclusive collection of spas, wellness centres and health spas in KwaZulu Natal.