Scarborough Child / Family Friendly Accommodation
Child friendly hotels and accommodation in Scarborough - including family hotels, guest houses, bed & breakfasts, holiday apartments, suites, cottages and holiday homes - catering for families travelling with children. The establishments below accept children of all ages (from babies and toddlers to teenagers). If none of these establishments take your fancy, please adjust the filter to show results for the specific age group(s) required.
5 Family Friendly Establishments (all ages welcome)
5 establishments in Scarborough
515 Camel Rock Road, Scarborough, 7975, Western Cape
A stunning self catering apartment (sleeps up to 4 guests) which is literally less than a one minute walk to the pristine beach, right next to a nature reserve. Kulu on the Rocks is only 10 km from Cape Point and has the famous ... read more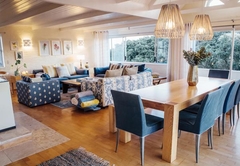 15 Beach Road, Scarborough, 7975, Atlantic Seaboard, Western Cape
Beach Break House is a bright, sunny 3 bedroom home in Scarborough and is only a 2 minute walk away from the beach. This magnificent home has a lovely garden where the kids can play as well as a BBQ / fire pit ... read more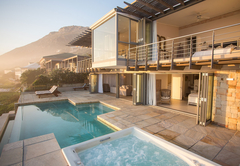 42 Main Road, Misty Cliffs, 7975, Atlantic Seaboard, Cape Town, Western Cape
Villa Misty Cliffs is an exquisite three bedroom villa situated right on the beach at Misty Cliffs which sleeps a maximum of eight guests. It is an ultra-luxurious designer home with spectacular, unobstructed views of the sea ... read more
Cape Cottage, No. 7 Beach Road, Scarborough, Atlantic Seaboard, Cape Town, Western Cape.
Cape Cottage echoes to the soothing sounds of crashing waves on the white sand and rock-pooled beach 200 metres away. This cosy getaway is on Scarborough's front row with breathtaking views across milkwood dunes of sunsets and ... read more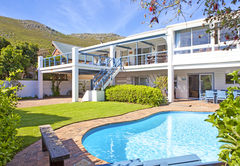 889 Beach Road, Scarborough, Atlantic Seaboard, Cape Town
This 4 star, luxury, double storey, beachfront villa offers privacy, beauty and security. If you seek a safe and peaceful beach retreat within easy reach of the Cape Town buzz, don't miss staying at this stunningly appointed ... read more

Why Book with SA-Venues.com
Secure payments
Accredited establishments
Deal direct and save