Wedding Reception Venues in South Africa
Your wedding is one of the biggest days of your life, and you want it to be perfect. Compare wedding venue facilities and more with a simple click of your mouse. Search for a wedding venue in South Africa from our extensive list of fine Hotels and dedicated Function Venues.
South Africa's wedding venues include elegant country houses, luxury game lodges, cosy inns, seaside resorts, rustic barns, romantic castles, and exclusive, luxurious hotels and resorts. The locations cover some of South Africa's most beautiful regions: the Drakensberg, the Cape Coast, Dolphin Coast, the Whale Route, on a Game Reserve, the Garden Route and the cosmopolitan cities of Cape Town and Johannesburg.
Popular Wedding Venues
Wedding venues can be found in South Africa's finest cities and towns. Get married in Margate ... Hitched in Hermanus ... Tie the knot in Knysna ... Celebrate at a wedding venue in Cape Town ... get betrothed in Bloemfontein ... whatever you want to call it, South Africa has the ideal location for your romantic nuptials.
There is a wonderful choice of wedding locations for the bride and groom to choose from in South Africa, and if you need overnight accommodation for out of town wedding guests, the bride and groom can search our selection of fine South African Hotels, Bed & Breakfasts or Guest Houses and Country Inns.
To start planning your South African wedding and to find the perfect wedding venue, select your preferred destination from the detailed lists below.
View all Wedding Venues by Province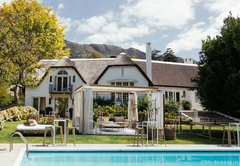 Western Cape
Pictured: The Forum | Embassy Hill in Constantia, Cape Town
Cape Town is the city of fair skies, gorgeous beaches, magnificent gardens and an extensive list of cape town wedding and reception venues. Outdoor locations for wedding photographs abound. Botanical gardens, Table Mountain as a backdrop ...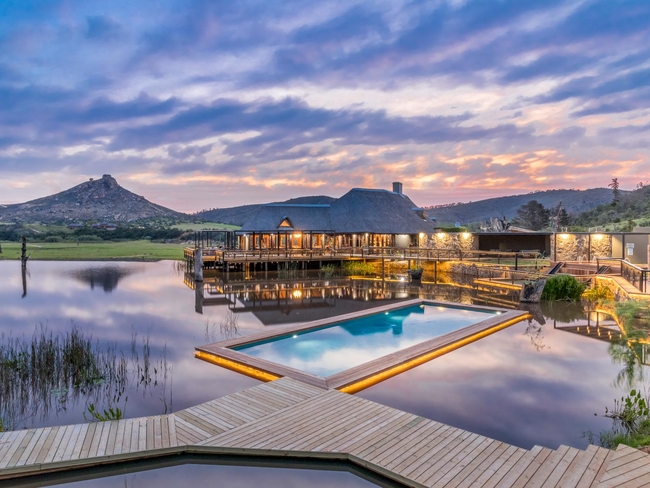 Garden Route
Pictured: Botlierskop Private Game Reserve in Garden Route
By selecting the Garden Route for your wedding, you can depend on some of the most gorgeous scenery and 'drop dead' photo moments to augment whatever wedding plans you make. If itís a beach wedding scene you are after, then you ...
Eastern Cape
Pictured: The Venue @ Morgan Bay Hotel in Morgans Bay, Wild Coast
With the Eastern Cape as your destination you are spoilt for choice. The coastline in this part of the country is a paradise, with warm waters and idyllic beaches. Top wedding destinations such as the 'friendly city' of Port Elizabeth set o...
KwaZulu Natal
Pictured: Providence Country Weddings in Nottingham Road, KwaZulu Natal
Where you get married is possibly the most important contributor to the success of the day and tying the knot in Durban - Africaís Zulu Kingdomís seaside playground - is without doubt an excellent choice. KwaZulu Natal is a fascinating blen...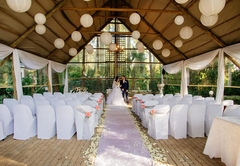 Gauteng
Pictured: The Forest Walk Venue in Midrand, Johannesburg, Gauteng
Gauteng, the 'place of gold', is a vibrant metropolis with so many different options, that it should be first choice. The sun always shines in Gauteng, with a cosmopolitan, multicultural mix of people that give the city of 'Jozi' its own pa...
Mpumalanga
Pictured: Riverman Venue in Dullstroom, Mpumalanga
Mpumalanga is not called 'the place where the sun rises' for nothing. The second-smallest province in South Africa after Gauteng, this most north-eastern area of the country flaunts spectacularly diverse and beautiful scenery and an ...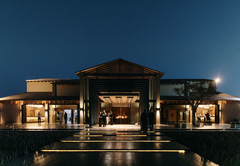 Limpopo
Pictured: The Venue @ Palala in Waterberg, Limpopo
Choosing Limpopo, land of the majestic Baobab tree where myth and legend weave their way through landscapes of incredible beauty, is possibly one of the best location options for your wedding day. The northernmost province of the country ...
North West Province
Pictured: Green Leaves Country Lodge in Hartbeespoort Dam, North West Province
This part of the country, close to Gauteng, manages to blend modern living with the charm of ancient Africa, providing glorious examples of scenery and ideal wedding locations. Exhibiting a unique beauty, the province is dominated by ...
Free State
Pictured: Welgelegen Cherry Estate in Fouriesburg, Free State
To stand spellbound by blue skies, horizons that extend forever, rolling hills, sandstone mountains and golden fields is to find oneself in the heart of the country - in the Free State. To choose this region as the location for one's weddin...
Northern Cape
Pictured: Okiep Country Hotel in Springbok, Northern Cape
Whilst the Northern Cape doesnít always make it on to the average touristís agenda, it should. And for weddings in particular, the semi-arid region forms a unique canvas against which a bride and her wedding party create a lasting impressio...
Why Book with
SA-Venues.com
Get detailed information about each service provider, good quality images (exteriors and interiors), read reviews, compare rates, and make direct bookings with your chosen wedding reception venue in South Africa. You pay no booking fees when making your reservations via the SA-Venues.com site and all properties are verified providers.
Secure payments
Accredited establishments
Deal direct and save
Wedding Inspiration
Your choice of setting for your wedding venue in South Africa is limited only by your imagination and fantasies. South Africa offers an unlimited array of stunning locations, which will take your breath away.
Atop Table Mountain and have your ceremony conducted in the clouds.
A barefoot wedding on a soft, white sandy beach at sunset.
A wedding in an exclusive Game Lodge amidst the splendour of the African bush.
If you are adventurous, why not tie the knot mid-air whilst paragliding or skydiving.
A Wine Farm along with elegant Cape Dutch mansion, endless vineyards, lawns and ponds for outdoor weddings.
Additional Reading
View all wedding venues by province, indicated with red markers on the map below.
Blue markers show some popular wedding venues around the country.
Wedding venues can be found in South Africa's finest cities and towns