Where? Saldanha Bay
North Head lighthouse is one of two at the entrance to Saldanha Bay. The other is rather obviously called South Head lighthouse. North Head started off in 1939 as a gas lantern mounted on a square concrete ...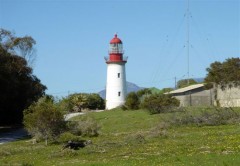 Where? V&A Waterfront
Robben Island is a small island whose activities have documented the changing of time, the course of history and the progress of mankind. First discovered in 1575 by Portuguese explorers as a natural ...