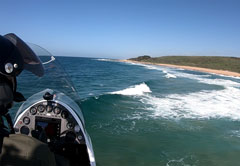 Where? Durban
Gyrocopters were made famous by James Bond in You Only Live Twice. Since then, they have been offering adventurers the opportunity to see the world from new and thrilling heights. A gyrocopter is similar to a ...
Where? Durban Central
EThekwini, more commonly known as Durban, is the capital city of the province of KwaZulu-Natal in South Africa, and has a host of incredible sites to explore and things to do. In addition to its commercial and ...