Things To Do in Soweto

Tour de Soweto by Bicycle

Miscellaneous Museums Sight Seeing Township Tours Johannesburg Southern Gauteng

Where? 10823A Pooe Street, Orlando West, Soweto, Johannesburg.

When? Please enquire.

How? Call +27 (0)11 936-3444

How much? Falls into price group R201 to R500 per person. Confirm with the provider.

Overnight? Stay at accommodation in Soweto, in Gauteng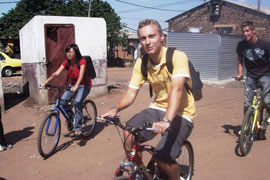 Looking for a different way to explore Soweto? Jump on a bike at Leboís Soweto Backpackers for a guided tour of the places, people and culture.
The tour starts at the hostel and travel through the township, taking in Nelson Mandela and Bishop Desmond Tutuís homes, the Hector Pietersen Musuem and Meadowlands before breaking at the local shebeen for you to refresh your thirst.
We offer pick up and drop off from Johannesburg. Tours available include 2 hour, 4 hour or half day tours. We look forward to sharing our vibrant city with you!