Things To Do in Cradle of Humankind

Maropeng Visitor Centre

Cultural Sites Family Entertainment Wheelchair Friendly Cradle of Humankind West Rand

Where? Maropeng Visitor Centre, Cradle of Humankind, Gauteng.

When? Open Daily from 09h00 to 17h00. The last boat ride departs at 16h00.

How? Call +27 (0)14 577-9000

How much? Falls into price group R1 to R100 per person. Confirm with the provider.

Overnight? Stay at accommodation in Cradle of Humankind, in Gauteng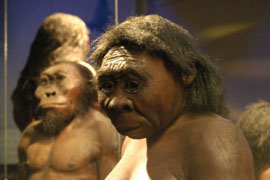 Visit the visitor centre for The Cradle of Humankind World Heritage Site in Gauteng, South Africa. Maropeng, the new visitor centre for the Cradle of Humankind, is the place local and tourists are clamouring to see and experience. Tour 2500m² of exhibits with an underground boat ride. See fossils, learn about how humankind was born, view stone tools up to 1-million years old, and much, much more.
This internationally acclaimed tourist attraction highlights, by means of interactive, visually stunning exhibits, the universal relevance of the Cradle of Humankind as our ancestral home. An exciting boat ride takes you back 3-billion years through the elements that kickstarted life on the planet and your journey continues through a 150m interactive 'virtual cave'