Things To Do in Sandton

Archery At Affordable Adventures

Family Entertainment Sports & Leisure Johannesburg Sandton

Where? 2 Poplar Ave, Craigavon, Sandton, Johannesburg

When? Please enquire

How? Call +27 (0)11 465-9168

How much? Price on request

Overnight? Stay at accommodation in Sandton, in Gauteng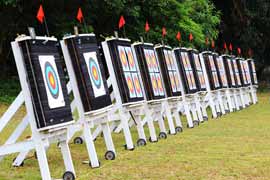 Archery is fun, improves your listening skills, communication and synergy. This awesome sport is great for small groups or large teams looking for the ultimate in team building activities or family fun.
Learn all the basics, how to handle your bow, to aim correctly and how to use your equipment safely. Once you have had a go at that, split up into teams and see who is the best aim.
Archery is exciting to participate in and to watch and you are bound to have a laugh while doing it. The session usually lasts between 1 and 2 hours and a minimum of 8 people are required. Why not combine your archery session with other team building activities available.