Restaurants in Richmond
Restaurants: Casual Dining
Showing 1 of 1 restaurant in this category
Where? Richmond
Saag and Sumi are the managers of this olde world charm destination in the centre of Richmond in the Upper Karoo, Situated next to the N1 approximatly halfway between Cape Town and Gauteng, Die Krip is a ...
Restaurants: Cafés & Coffee Shops
Showing 1 of 1 restaurant in this category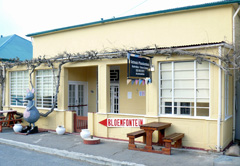 Where? Richmond
At the Vetmuis Plaaskombuis a National Heritage Building, and typical Karoo dwelling with thick walls and yellowwood floors, freshly prepared 'Kontrei Kos' (hearty country meals) are served. Indulge in ...
Filter restaurants
in Richmond, Northern Cape
©Unauthorised use of the
photos is strictly prohibited.