Northern Cape Child / Family Friendly Accommodation
Child friendly hotels and accommodation in Northern Cape - including family hotels, guest houses, bed & breakfasts, holiday apartments, suites, cottages and holiday homes - catering for families travelling with children.
The establishments below accept children of all ages (from babies and toddlers to teenagers). If none of these establishments take your fancy, please adjust the filter to show results for the specific age group(s) required.
Kids in the Northern Cape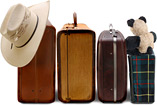 Divided into five regions, the Northern Cape is truly a collection of treasures. From the challenges of the outdoors with its 4x4 trails, safaris and wide open spaces through the Big Hole of Kimberley and the wonders of the Karoo to the harsh climate of the Namakwaland and its rich and rare plantlife, this is a part of the world that draws families from far and wide.
The biggest of South Africa's nine provinces the Northern Cape might be slightly larger than Germany and take up almost a third of South Africa, but it has the countryís smallest population, and is also home to the last true remaining Bushmen or San, who, having retreated as far north of the Western Cape as possible, are now confined to a tiny area of the province. The Northern Cape has an inordinate number of national parks and conservation areas, all of which provide wonderful getaway opportunities for families. The Kgalagadi Transfrontier Park, which crosses the frontiers between Botswana and South Africa combining the Gemsbok National Park with the Kalahari National Park into a transfrontier park of 3.6 million hectares, is the finest example. But the Augrabies Falls National Park, west of Upington; the Richtersveld National Park; and the spectacular Witsand Nature Reserve in the Kalahari are all worth a visit.
The astronomical observatory on a desert hilltop near Sutherland is a treat for children of all sizes, particularly as South Africa and her partners are busy building the largest single telescope in the southern hemisphere here, and there are tours through the observatory - make sure you book as itís very popular.
Besides the already too many activities to fit into one holiday, there are no fewer than five routes in the Northern Cape that include the Flower Route, in the succulent Karoo, the Orange River wine route, where a number of wine cellars have family-friendly venues, and the Red Dune route - all of which are carefully designed to provide those with families the facility to plan daily trips with plenty of places to stop en route to stretch little legs.