Glengarriff Child / Family Friendly Accommodation
Child friendly hotels and accommodation in Glengarriff - including family hotels, guest houses, bed & breakfasts, holiday apartments, suites, cottages and holiday homes - catering for families travelling with children. The establishments below accept children of all ages (from babies and toddlers to teenagers). If none of these establishments take your fancy, please adjust the filter to show results for the specific age group(s) required.
3 Family Friendly Establishments (all ages welcome)
3 establishments in Glengarriff
East Coast Resorts, Glengariff, Wild Coast, Eastern Cape
Two Lovers Lane is a large house that can be found in the quaint area of Glengarriff. The house consists of three bedrooms, two with double beds and one with two single beds. All bedrooms, of which two are very sunny, have large ... read more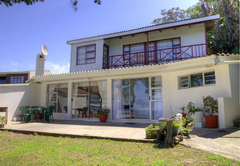 32 Glengariff, East Coast Resorts, Wild Coast, Eastern Cape.
Casli's Cottage is a uniquely designed and perfectly positioned family home that has been divided into three apartments catering for up-market and affordable accommodation. The house is in a prime spot sheltered from the East ... read more
East Coast Resorts, Glengarriff, Wild Coast, Eastern Cape
One Lovers Lane is a large family beach cottage just 100 meters from the main beach. Suited for a large family or two families, the cottage has five bedrooms and three bathrooms. The kitchen is fully equipped for a self catering ... read more
Why Book with SA-Venues.com
Secure payments
Accredited establishments
Deal direct and save