With over 400 speciality stores to tempt you, including fashion, homeware, gifts, jewellery, shoes, leather ware, music, arts and more, Canal Walk offers a comprehensive shopping experience in Cape Town all ...
A green lung in the midst of built up Century City, Intaka Island is a series of natural wetlands and manmade islands that emerged as a result of an Environmental Impact Report suggesting the preservation of a ...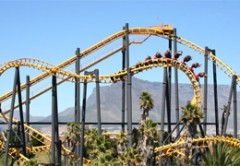 Ratanga Junction features over 30 attractions, the most exciting being the Cobra roller coaster. There are also plenty of tamer rides for children and the less adventurous adults. The park also boasts numerous ...