Maccauvlei Golf Course is one of the best around and has played host to various big tournaments over the years. An excellent links-type course on the south bank of the Vaal River in Vereeniging, Maccauvlei was ...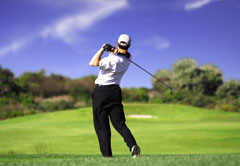 Vereeniging is best known for its manufacturing industries, but certainly has some surprises for visitors wanting to enjoy the untouched loveliness of the Gauteng countryside. The Riviera on Vaal Country Club ...
There are not many dams that can claim to be as big as Luxembourg, yet the Vaal Dam, which is also the country's largest dam by area – the Gariep Dam has the largest storage capacity – does just that. Suffice ...