Kyalami Country Club is just a few minutes drive from South Africa's grand prix motor racing circuit just north of Johannesburg. Kyalami is an eighteen hole golf course situated conveniently between Pretoria ...
For those that relish the smell of tyres on the track, the sound of engines being pushed to their limits and the sheer adrenalin of watching drivers careen around a world-class track, Kyalami Racing Circuit is ...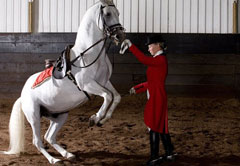 The Lipizzaners are situated in the small holdings of Kyalami. Every Sunday they perform a classical dressage show to classical music in which they skip, trot on the spot, side step, high step, and jump off ...