Nababeep, Namaqualand
Little over 20 km north west of Springbok lies the small village of Nababeep, a former copper-mining town in the heart of the Namaqualand, its quaint sounding name an amalgamation of two Nama words – 'naba' or hump of an animal, and 'bib' or small spring – which translates into place of the rhinoceros.
It is a little beep of a town, hardly substantial and still reeling from the after effects of the mine's closure in 2004 on the people who live here. Yet it is also one of the main attractions of the Namakwa wildflower tour, its rocky hills a rash of flowers during spring. All is not smooth en route to Nababeep – the road is littered with pot holes. They've been there long enough, and are bad enough, to warrant numerous road signs warning vehicles. But the bumpy ride is worth it for flower fundis and steam train fanatics alike.
Mining began here way back in the 1850s, and from 1876 ore was transported from O'Kiep to Port Nolloth by train. The local Nababeep Mine Museum bears testimony to this history, its immediate surrounds a display of old mining equipment and Clara - a narrow-gauge 'mountain type' steam locomotive.
Now those mining houses and buildings not given to Nababeep's residents are bought up as guest houses and hotels for tourists who head up here for the beauty of the Namaqualand – the semi-desert terrain that thirsts most of the year yet produces exceptional flora all year round, and flowers during spring.
Much of this part of the Northern Cape is sparsely populated, the little hamlets and town, like Nababeep, play second fiddle to the landscape that despite the extraction of natural resources and the closure of mines still manages to produce the flowers that explode on the landscape provided the rains are good.
In the vicinity
Hotels & other accommodation options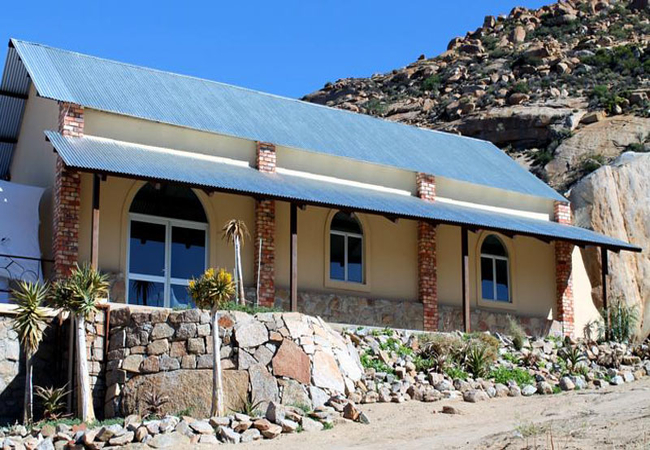 Bed & Breakfast / Self Catering
Jakkalswater Gasteplaas offers you an ideal stop over in the Northern Cape with a picturesque view from the mountains over the valley below. We a...
Noteworthy attractions
Find accommodation in Nababeep
FIND / South Africa Accommodation / Northern Cape Accommodation / Namaqualand Accommodation / Nababeep Accommodation
Nababeep as a destination