South Africa Wildlife
The Warthog {Phacochoerus aethiopicus}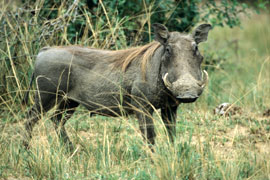 Neither graceful nor beautiful, warthogs are however, remarkable animals. They are found in most of Africa south of the Sahara and are widely distributed in East Africa. They are the only pigs able to live in areas without water for several months of the year. By tolerating a higher-than-normal body temperature, the warthog is perhaps able to conserve moisture inside its body that might otherwise be used for cooling.

Males weigh 20 to 50 pounds more than females, but both are distinguished by disproportionately large heads and the warts-thick protective-pads that appear on both sides of the head. Two large pairs of warts occur below the eyes, and between the eyes and the tusks, and a very small pair is found near the jaw (usually just in males).

The face is fairly flat and the snout elongated. Eyes set high on the head enables the warthog to keep a lookout for predators even when it lowers its head to feed on short grass. The warthog's large tusks are unusual: The two upper ones emerge from the sides of the snout to form a semicircle; the lower tusks at the base of the uppers are worn to a sharp cutting edge.


Quick Facts
Size:
Stands 30 inches at the shoulder
Weight:
120 to 250 pounds.
Habitat:
Found in moist and arid savannas avoiding deserts and high mountains.
Diet:
Grazer; Mainly a grazer the warthog has an interesting practice of kneeling on its calloused, hairy, padded knees to eat short grass. Using its snout and tusks, it also digs for bulbs, tubers and roots during the dry season.
Lifespan:
15 years.
Predators:
Lions and leopards.