South Africa Wildlife
Chacma Baboon {Papio ursinus}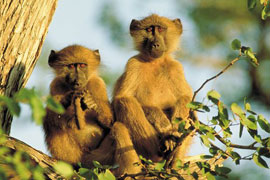 Chacma Baboons are the largest of the baboons. Chacma baboons have dark yellowish-grey to dark brown and almost black fur. Their faces are black with white hair below the eyes and on the muzzle.

The Chacma Baboon is a large primate with a dog-like face and large, prominent canines. A mature male measures 1.5 m from head to tail and weighs up to 33 kg, whereas the more slender female measures 1.1 m and has a mass of about 15 kg.



Quick Facts
Name:
Papio ursinus
Habitat:
Woodland, grassland, acacia scrub and semi-desert habitats, including small hills, seaside cliffs and mountains up to 2980m, near to a freshwater source.
Distribution:
Southern Africa.
Diet Description:
Grass, roots, tubers, fruits, nuts, invertebrates, small birds and mammals, and crustaceans when near the coast.
Size:
Body length: 58-76cm, Tail length: 58-64cm, Weight: 16-20kg.
Socialisation:
Chacma baboons have variable social structures. They live in multi-male and multi-female groups or multi-female groups with one male. Chacma Baboons are diurnal and spend most of their time on the ground.
Predators:
Leopards and cheetah.
Reproduction:
After a gestation period of 187 days, females give birth to one infant.