Western Cape and Cape Town Things To Do
Bredasdorp Shipwreck Museum (Bredasdorp)
Categories: Museums
Price group: R1 to R100 per person (see other things to do in this price group)
Available in the following region(s): Cape Agulhas / Cape Overberg
Stay Overnight: See accommodation in Bredasdorp, in Western Cape
Address: Bredasdorp Museum, 6 Independent Street, Bredasdorp, Western Cape.
Telephone: +27 (0)28 424-1240
Opening hours: Monday to Friday from 09h00 to 16h45.
Saturday from 09h00 to 14h45.
Sunday from 10h30 to 12h30.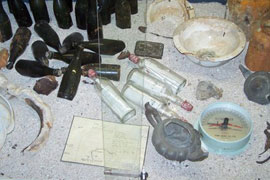 The Bredasdorp Museum is primarily a maritime Museum whose primary theme is "Shipwrecks along the dangerous Southern Cape coast and their influence on the development of the Strandveld".

There have been approximately 130 shipwrecks off the Southern Cape coast since 1673. This dangerous section of coast is known as the "Graveyard of the ships". The Museum also documents the rich history of the area. Well worth checking out.

Why Not Overnight?
Find Accommodation in Bredasdorp
Black Oystercatcher is a boutique family run wine farm that forms part of the Elim Wine Ward found on the Agulhas Plain of South Africa. It is also ...
The De Hoop Collection offers a wide range of accommodation. From affordable self-catering chalets and cottages to five-star fully catered lodges. ...
Related Pages
Travelling to Bredasdorp