Things To Do in Broederstroom

Abseiling in Broederstroom

Extreme Sports Sports & Leisure Hartbeespoort Dam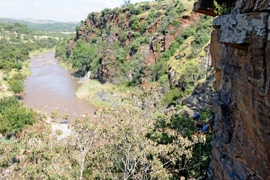 Outside Adventures specialises in safe and affordable outdoor adventure activities in the Gauteng and North West Provinces. Abseiling is the perfect way to overcome your natural fear of heights, in a very safe and supported environment. Our abseiling adventures are run by registered and experienced guides, leaving you free to concentrate on the exhilarating experience and the breathtaking scenery.
Our abseiling adventures all take place within an hourís drive from Johannesburg and Pretoria, in nature and wildlife reserves. Combine the thrill and excitement of an abseiling adventure from a natural cliff; with spectacular scenery and wildlife, for the adventure of a lifetime. We offer abseiling in various venues and at different heights, anything from 8m to 75m in height; for ages 12 and older, and for all levels of fitness and ability. No previous experience is needed to come abseiling with us.