Durban and KwaZulu Natal
KwaZulu Natal Attractions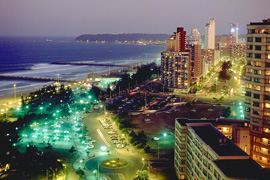 Once you've booked your hotel or KwaZulu Natal accommodation explore our destination pages below for info on attractions, events and what to do in KwaZulu Natal.

KwaZulu Natal is a world in one province: to the North of Durban you will find the best of African game reserves and pristine beaches, to the West lie the majestic Drakensberg Mountains and temperate Midlands while to the South there await superb golf courses, fishing spots and miles of subtropical coastline.

Known as the Kingdom of the Zulu, KwaZulu Natal is a melting pot of African, European and Indian cultures. This province boasts two World Heritage Sites, the Greater St Lucia Wetland Park and the majestic Ukhahlamba-Drakensberg Park. KwaZulu Natal offers superb beaches, sunny weather, game reserves, rolling green hills, numerous sugar cane plantations and relics of the great battles in South African history. There are 8 distinct regions and numerous 'must-see' attractions.
destinations / attractions in kwazulu natal