Game Reserves in South Africa
Limpopo Game Reserves
Limpopo Lowveld Nature and Game Reserves and National Parks / An oasis within Limpopo's Big Five country surrounded by the Kruger National Park, the Private Game Reserves bordering the Kruger Park and specialised breeding ranches and sanctuaries for endangered wildlife. The private game reserves lie mostly along the western border of the Kruger and the animals roam freely between the Kruger Park and the Private Game Reserves.

Limpopo Game Reserve Map
Click on the game reserve on the map (or use the links below) to view additional information about the Game Reserves and for listings of all Game Lodges listed in the relevant area.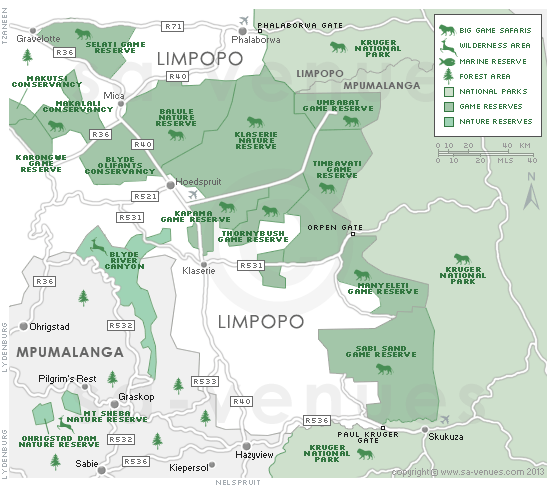 Limpopo Safaris
Experience a unique Limpopo Wildlife Safari or Limpopo Tour / Limpopo offers visitors an wide selection of Game Reserves. Choose a package tour ranging from a single overnight stay to multiple days in a Game Reserve or visit one of the Limpopo Reserves as a day trip. Find day tours at Limpopo Day Tours.