Game Reserves in South Africa
Drakensberg Game Reserves
The Ukhahlamba Drakensberg Park has exceptional natural beauty in its soaring basaltic buttresses, incisive dramatic cutbacks, and golden sandstone ramparts. Rolling high altitude grasslands, the pristine steep sided river valleys and rocky gorges also contribute to the beauty of the site. Click here to view a variety of Drakensberg Accommodation options available for your trip to the Drakensberg.

Click on the Drakensberg game reserve, national park or nature reserve you wish to visit on the map or select from the full list below, to view additional information about the individual Drakenberg reserves and for listings of all lodges listed in the relevant area.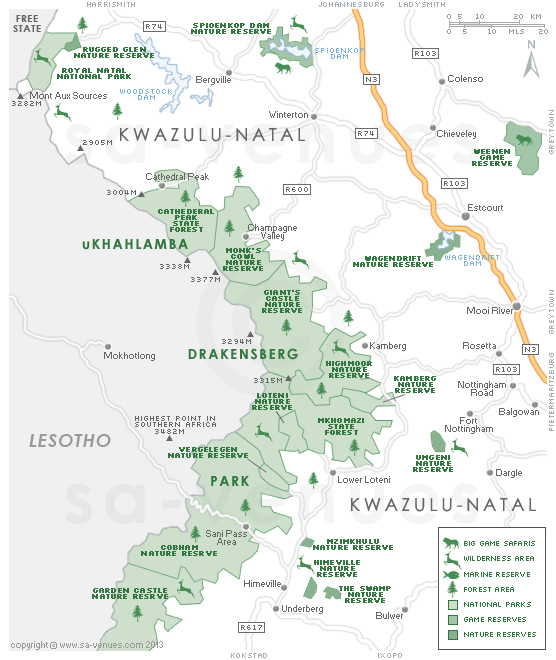 KwaZulu Natal Safaris
Experience a unique KwaZulu Natal Wildlife Safari or KwaZulu Natal Tour / KwaZulu Natal offers visitors an outstanding selection of Big 5 Game Reserves. Choose a package tour ranging from a single overnight stay to multiple days in a Game Reserve or visit one of the KwaZulu Natal Game Reserves as a day trip - There are plenty to choose from at KwaZulu Natal Day Tours.