Western Cape Events
Up The Creek Music Festival (Swellendam)
When: Dates to be confirmed
We regret, the dates for this event have not yet been confirmed with us. Our apologies for any inconvenience. Event organiser please contact us with the date for this event.
Where: Swellendam
Categories: Annual Festivals / Music Festivals
Stay overnight: See accommodation in Swellendam, in Western Cape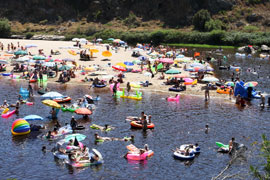 One river, three stages, loads of live music, comedy acts and festival goers with a passion for some of South Africa's best music in common - get yourself ready for Up the Creek!

We will bring you the same of what worked last year and more: Food vendors offering delicious festival faire, coffee maestros, more stalls and bars throughout the festival. If you are travelling with kids, rest assured that they will be supervised and catered for with kiddie-friendly activities at the designated kid's area, including a jumping castle. The festival ground is also kitted out with a medical tent with trained personnel, while lifeguards at the riverside will keep tans in check and of course their eyes wide open..

ANYTHING THAT FLOATS…
Lobster lilos, Indian canoes, floating bars and human tube chains are making a comeback! Following the splashing, singing, howling success of the Anything That Floats competition, we've decided to stir up in the refreshing water of the Breede river once again.

After spotting a jolly good pair of sailors floating down the river in a bathtub we might, however, have seen it all…or have we? Participants are encouraged to think outside of their beach gear boxes in order to stand a chance to win incredible prizes. At this stage, categories include anything from the best design and most floatable contraption to the most luxurious device on the Breede River.

Tickets
Tickets can be purchased on-line from Ticketbreak.

Contact: Ann Sowden on +27 (0)21 510-0547 for more information

Please Note: Dates for this event to be confirmed.
Stay a Day or Two?
Find Accommodation in Swellendam
This historic Cape Dutch farmstead near Swellendam offers a unique experience on the R62, a mere 2-hour drive from Cape Town towards the Garden Route ...
Swellendam Country Lodge offers quality accommodation in a stylish and friendly atmosphere. The guest rooms are surrounded by large gardens with many ...
Related Pages
Swellendam Tourism
• Swellendam Self Catering
• Swellendam Bed & Breakfast
• Western Cape Hotels