Events in Elgin

Spur Adventure Sprint Race

Outdoor Events Sporting Events
Please Note
This event has already taken place. All details published in good faith, as supplied by the organisers. Please check our current and upcoming events list for events to attend.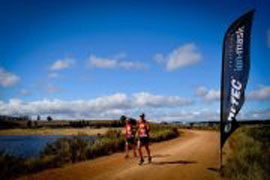 Join us at the Spur Adventure Sprint Race where the emphasis is on "having fun" and designed for the novice and more experienced teams alike! These events provide a fun-filled outing for the whole family and a jumping castle is available to entertain the kids.
There are three events to choose from the Spur Bush Kid Adventure Trail, Spur Warrior Mini Sprint Race and Spur Adventure Sprint Race. There are no water points on the course so make sure you bring your own! Participants will each receive an energy drink at the finish. The Spur Adventure Sprint race is made up of teams of 2 or 3 and is not a relay. Team members do all the activities together and must stay together for the entire race. The race contains a combination of mountain biking / water crossing with tubes and ropes / trail running / hiking / natural obstacles.
You maybe keen on the long course which is 20-24km mountain biking and 4-5km trail run with natural and man-made obstacles including a water crossing with ropes / tubes - not a swim.
Otherwise try out the half course which is 10-12km mountain biking and 2-3km trail run with natural and man-made obstacles incl a water crossing with ropes / tubes again not a swim.