When: Dates to be confirmed
We regret, the dates for this event have not yet been confirmed with us. Our apologies for any inconvenience. Event organiser please contact us with the date for this event.
Where: Riebeek Kasteel
Categories: Food & Wine / Outdoor Events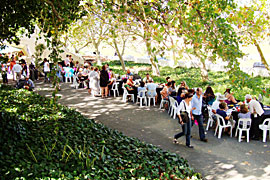 Save the date - Saturday 17 December 2011, for the annual Kloovenburg Wine & Olive Christmas Market Day. It's a showcase of the finest produce from the Riebeek Valley and surrounding areas and allows locals and visitors to this region the opportunity to taste, sample and buy all these wonderful products in one convenient location.

The Kloovenburg Christmas Market Day is the perfect opportunity to stock up on produce and ideas for your Christmas Table as well as allowing you to buy the most delicious stocking fillers and presents for friends and family. Don't miss out on the fabulous range of Kloovenburg Festive Season Hamper's - which include products from their recently launched luxury body product range, delicious olives and olive oils as well as of course the estate's superb wines.

Venue: Kloovenburg Wine & Olive Estate
Time: 09h30 - 15h00
Telephone: +27 (0)22 448-1635 for more information.

Please Note: Dates for this event to be confirmed.
Stay a Day or Two?
Find Accommodation in Riebeek Kasteel
Situated in the stunning Swartland wine district of the Cape, Suikerbossie is a gorgeous newly-renovated 3 bedroom (all en-suite) cottage in the ...
Experience the unique, warm hospitality of farmers in the heart of the Swartland. Du Vlei is situated 7km from the picturesque Riebeek Kasteel, on ...
Related Pages
Riebeek Kasteel Tourism
• Riebeek Kasteel Attractions
• Things to Do in Riebeek Kasteel
• Riebeek Kasteel Accommodation
• Swartland Accommodation
• Western Cape Accommodation