Western Cape Events
Cape Homemakers Expo (Cape Town Central)
When: Dates to be confirmed
We regret, the dates for this event have not yet been confirmed with us. Our apologies for any inconvenience. Event organiser please contact us with the date for this event.
Where: Cape Town Central
Categories: Exhibitions & Conferences
Stay overnight: See accommodation in Cape Town Central, in Western Cape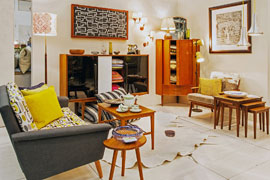 Your home is just a house until you 'Home-it' this spring by visiting the 18th annual Cape Homemakers Expo.

Cape Homemakers Expo is the largest and most comprehensive, multi-award winning home improvement and lifestyle expo and will provide you with all the resources you need to create your own personal style. This expo is part of Homemakers, a national group which also presents three similar home lifestyle shows annually in Johannesburg, Durban and Port Elizabeth.

With 350 stands showcasing inspirational and trend setting new ideas, and with over 80 different product categories, you will be sure to find something to suit your taste. Exciting features not to be missed ARTISANaffair, alfresco living, d'VINE life, inVOGUE, the tuis/home DIY Workshop, the Future of Design and screenART.

Venue: Cape Town International Convention Centre
Contact: +27 (0)21 511-2800 for more information.

Please Note: Dates for this event to be confirmed.
Stay a Day or Two?
Find Accommodation in Cape Town Central
Tudor Hotel is a 30 room Bed and Breakfast Hotel situated in the heart of Cape Town's majestic city center, next to well-known Greenmarket Square. ...
The Canal Quays, situated right on the canals that link the V&A Waterfront to the CTICC are ideally located for those seeking modern and luxurious ...
Related Pages
Cape Town Central Tourism