Events in Hermanus

Berg & Beach Trail Run

Outdoor Events Sporting Events
Please Note
This event has already taken place. All details published in good faith, as supplied by the organisers. Please check our current and upcoming events list for events to attend.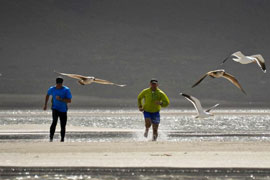 The Berg & Beach Trail Run is a 23km Coast / beach and 27km Mountain trail run completed over two days. The run takes place in during the Southern Right Whale breeding season, so you are bound to see them close inshore during the run.
On Day 1 the run starts out on an old 4x4 track along the cliffs overlooking the bay for about 4km before dropping down toward the beach itself. After a couple of crossing over some rocky sections, the beach opens up and runners will be wedged between sand dunes and the water on hard packed sand.
The 2 hours before and after low tide will provide enough time for the slowest runners to get to the end of the run before high tide. The area is pristine and runners will often see the "Toby" or Oyster Catcher bird which uses the areas above high tide to nest. Runners are urged to stay on the low tide sand area for this reason. There are numerous other bird species nesting along the coast here.
The river mouth may or may not be open. Right now it is not - rain dependant. If it is, you would need to cross the mouth at around low tide. A safety paddle boat is provided to monitor your crossing. The run will then continue along the beach for another 3km along the cliff path to the Mossel River. The path then follows the river trail under and passing the main road - eventually finishing at Fernkloof Nature Reserve botanical garden.
The Day 2 run starts on a 800m section of tarred road, leading into single track hiking trail for 99% of the remainder. The tracks will contour up toward the top of the Mountain and Fernkloof Nature Reserve, making it possible to actually "run" most of this climb. The views are 2nd to none and you will be traversing valleys, ridges and plateaus rich in fynbos, bird life and higher up, the Klipspringer! Kilometer for kilometer this is one of the best trails you'll ever run along with all its vistas.
Venue: Fernkloof Nature Reserve
Contact: +27 (0)21 789-0188 for more information